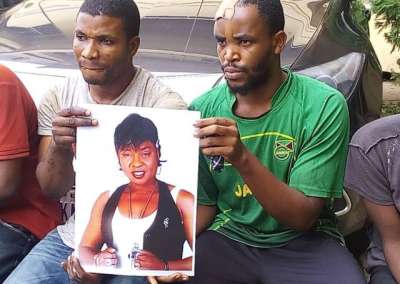 An arrested murder suspect has narrated to the Federal Capital Territory (FCT) Police Command how and why he killed his married lover in Abuja.
The suspect Paul Chukwujekwu Ezengo and his accomplice Emmanuel Adogah were on Thursday paraded along with 23 other suspects arrested for alleged involvement in murder, car snatching, armed robbery and other crimes, The Nation reports.
Ezengo and were arrested for allegedly killing Ezengo's married lover, 44-year old Charity Chidebere Aiyedogbon, to take her Acura Sport Utility Vehicle (SUV).
The suspects said they committed the crime after giving her excess alcohol, killed her, mutilated her body and packed it into two sacks that were dumped in a river.
To cover their track, the suspects said they changed the number plate of the vehicle of the deceased from Abuja to (Ebonyi State) SKA625AA.
Charity mysteriously disappeared in 2016.
The police, in efforts to unravel the mystery behind her disappearance, trailed and arrested the duo.
Narrating his involvement with Charity and how he killed her, Ezengo said: "We met on Facebook and she told me she was divorced. I was in a relationship with her for about a year and a half. We were having issues in our relationship because I was not benefiting from the relationship.
"She wasn't very rich when I met her but I knew she was comfortable and I needed my own share of her wealth.
"Later, evil thoughts came into me that I should kill her and take her car. I proceeded with the thought by involving my friend, Adogah.
"We went to hang out one night in 2016 and while we were there, she had too much alcohol and dozed off. I carried her from the house to where we killed her in Kagini."
On why he mutilated her, Ezengo said: "That night, after killing her, I was totally drunk. I wanted to carry her after killing her but she did not fit into the sack. That was why I decided to butcher her and dump her body in the river.
"It was greed and the devil that led me to do what I did. I was hoping to get her car after killing her. I feel really bad for what I did but I feel better because her spirit has been disturbing me. I believe that was why I was arrested."
Narrating his role, Adogah said: "My friend called me to assist him. My only role was just to carry the deceased's body from Ezengo's house to where she was eventually killed."
Giving details of how the suspects were nabbed, the FCT Police Commissioner Sadiq Bello said: "The dogged determination of the command to unravel the sudden disappearance of 44-year-old Charity Chidebere Aiyedogbon since May, 2016, has yielded a positive result.
"On June 1, police operatives attached to the command's Anti-Kidnapping Squad, arrested the principal suspect, Paul Chukwujekwu Ezengo, 27, in Benin, the Edo State capital.
"Following his arrest, the principal suspect, who has been at large since the lady's disappearance, confessed during interrogation that the mother of four was his girlfriend and that he conspired with Emmanuel Adogah, 28, and murdered her on May 9, 2016, at 2330 hours (11.30 p.m) at Kagini.
"According to Ezengo, he gave her excess alcohol to consume before he moved her from Yaoundé Street in Wuse Zone 6 to Kagini area, where she was butchered and her mutilated body packed in two sacks that were dumped on the river bank at Ushafa in Bwari Area Council.
"He further confessed that he killed her because he wanted to take possession of her Acura ZDS SUV and other properties."
The police said they recovered the deceased's car and some of her properties from the suspect.
The police chief, who described Adogah as an habitual criminal, said he also confessed to have participated in some heinous crimes.
Other suspects paraded include Shamsu Tukur, Abdulrahman Haruna, Zakari Bawa, Friday Okpara, Ojo Adebisi, Kasimu Isa, Samuel Eze, Kasimu Yakubu, Samaila Muhammed, Musa Yusuf, Abdullahi Ali and Ifeanyi Ugwu.
Others are: Godwin Obasi, Salisu Muhammed, Dimka Yohanna, Ebuka Ejeanyido, Chidebe Okocha, Chukwuma Amichie, Augustin Agbo and Chinedu Obi.
On the preparation of the police for this weekend's Eid-el-Fitr celebration, Bello warned criminals to avoid causing a breach of peace.
The police chief said the command, in conjunction with other security agencies, had taken measures to deal with individuals or groups that disturb the celebration to guarantee peace and security among the residents.
Also, to curb criminality in the FCT, Bello said the Inspector-General of Police (IGP) Ibrahim Idris, had reinforced the operational capability of the command with 40 patrol vehicles for a security outfit, code-named Rapid Response Squad (RRS).
He said the vehicles had been deployed in parts of the FCT, adding that their presence had contributed to the reduction of crime and criminality in the territory.