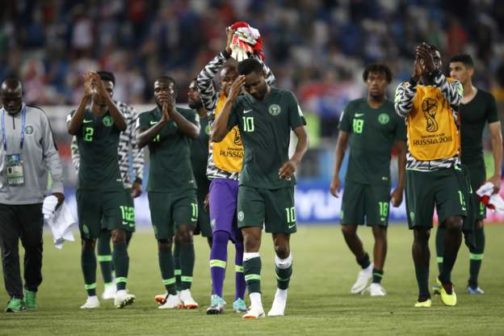 Football fans in Owerri, the Imo capital, have continued to react to the defeat of the Super Eagles at the hands of their Croatian counterparts.
The Super Eagles lost two goals to nothing courtesy of an own goal in the first half of play and a penalty in the second half.
Some of the supporters who spoke on Sunday expressed sadness over the loss, casting doubts over the future of the country's representatives at the soccer fiesta in Russia.
"Having lost the opening match, it has become more difficult to qualify for the next stage, with two compulsory wins in the remaining two group matches,'' Mr Alex Ubagana said, adding "I am scared for us".
Some of the supporters however were more enthusiastic of Nigeria's chances, saying it is still an open door.
"Croatia did not score against us", Miss Ogechi Ikedi said.
`An own goal and a penalty are not enough to crucify the Eagles because they really played well.
"If they can replicate today's display against Iceland, the results will surely come in our favour," she enthused.
Mr Uche Nwala, another supporter, blamed the match officials.
"I think the centre referee was biased," he alleged.
"Sometimes the players even had to remind him to use the whistle.
"If you watch the replay, you notice that we were clearly denied more than twice. That is far from what you expect from an official on the world stage," he said.
The Super Eagles are now at the last position in the group as they face Iceland and Argentina in the remaining group matches on June 22 and 26, respectively.