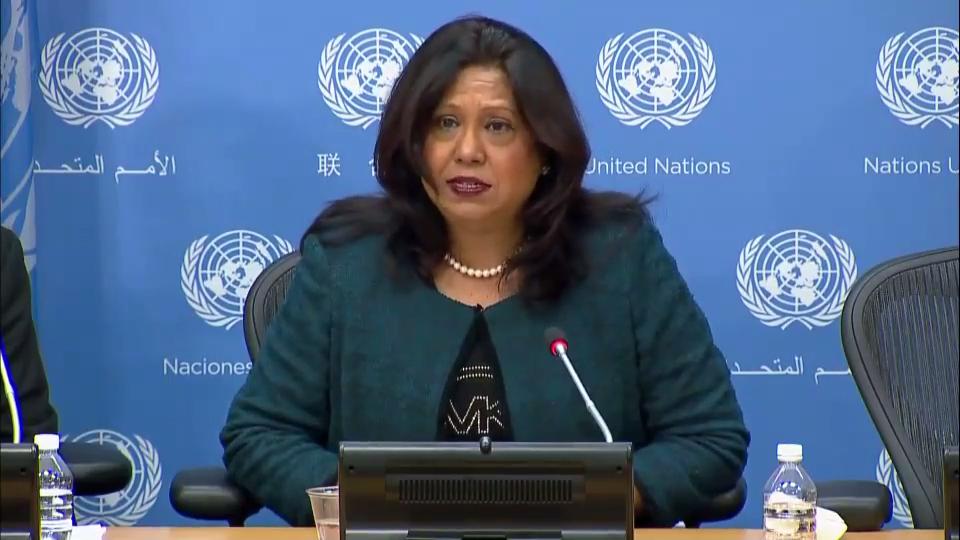 The UN has urged the Nigerian authorities to give more attention to protecting the girls and children, who were victims of sexual violence and abuse by the Boko Haram terrorists.
Ms Pramila Patten, Special Representative of the Secretary-General on Sexual Violence in Conflict, stated this while briefing on the International Day for the Elimination of Sexual Violence in Conflicts.
The plight of the girls, who were victims of sexual violence and abuse by Boko Haram terrorists, were among the spotlights for the Day.
Under this year's theme, "The Plight and Rights of Children Born of War," the Day encourages solidarity with the survivors, who have endured multiple ordeals, in the wake of sexual violence.
A short video clip featured 'Khadija', who was kidnapped by Boko Haram terrorists at Banki, Borno and impregnated, being tagged 'Boko Haram wife' and her baby, 'Boko Haram sin' in the camp.
Patten recalled her meeting with the victim girls and children born out of rape arising from the sexual violence and abuse when she travelled to Maiduguri in 2017.
"I met with 200 young girls and there were 162 babies and I was really disturbed by the fact that these young girls and their babies were not only rejected by their families and by their communities but also by the very people they were living with inside the camp.
My visit to Maiduguri made me realise that more attention needs to be given; I think the focus really has to be on the rights.
"There's a convention on the rights of the child that protect these children and more needs to be done,'' she said.
According to her, all the girls that she met at the internally displaced people camps in Maiduguri were released from the captivity of Boko Haram.
She said some of them still had complaints about sexual violence and food, explaining that these were issues that she raised with the government, following her visit to the camp.
"I raised the issue with the authority, with the Acting President (Yemi Osinbajo), whom I met and who reassured that actions would be taken.''
She said government followed up to ensure the review of the administration of the camp.
She added with further follow up by Deputy Secretary-General Amina Mohammed, the distribution of food was handed over to the World Food Programme to ensure cases of sexual abuse were minimised.
My office is trying to support the government of Nigeria and other partners and agencies to meet the needs of the very young survivors of sexual violence and their children through access to some kind of livelihoods support.
That`s in the process of negotiation with Nigeria.''
UN Secretary-General, Antonio Guterres, said the effects of conflict-related sexual violence echoes across generations, in the form of trauma, stigma and unwanted pregnancy.
The UN chief described the scourge as "a threat to our collective security'' and "a stain on our common humanity.''
"Children conceived through wartime rape often struggle with issues of identity and belonging for decades after the guns have fallen silent.
"They may be left in a legal limbo or at risk of becoming stateless.
"They are vulnerable to recruitment, trafficking and exploitation, with broad implications for peace and security as well as human rights.
"Their mothers may be marginalised and shunned by their own families and communities.
"These women and children are sometimes seen as affiliates of armed and violent extremist groups, rather than as victims and survivors,'' Guterres said.
Lord Ahmad, the British Prime Minister's Special Representative on Preventing Sexual Violence in Conflict and Minister of State for the Commonwealth and the United Nations, also condemned Boko Haram terrorists' activities against girls.
"Female illiteracy in some countries is running at 60, 70 or 80 per cent and there are bigoted fanatics, who actually campaign to stop girls from going to school, including the numbskulls from Boko Haram who will raid schools, abduct children and inflict any atrocity in order to deny girls an education.
"As recently as February, Boko Haram kidnapped 110 girls from a school in Dapchi and we all remember how 276 were taken from Chibok in 2014.
"When I visited Borno last year, I met girls who had been told they would be shot if they dared learn to read, as the Taliban shot Malala,'' Ahmad said.
Similarly, Ms Ninette Kelley, Director of UN High Commissioner for Refugees (UNHCR) in New York, while launching the UNHCR's Global Trends Report, urged governments to ensure voluntary return of IDPs to their communities.
She added that no displaced person should be forced to return until certain factors are considered.
Load more