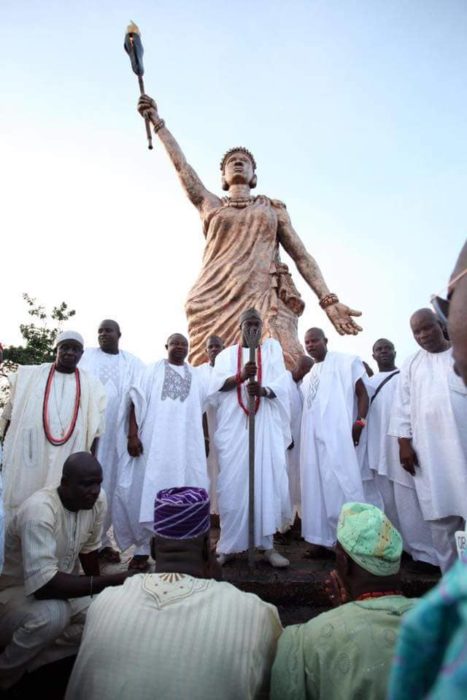 The Arole Oodua and Ooni Of Ife, Ooni Adeyeye Enitan Ogunwusi Ojaja II in conjunction with the authorities of the Obafemi Awolowo University(OAU) is set to unveil the book written on Moremi Ajasoro, an Ife queen who sacrificed herself to be enslaved for the liberty of her people and mankind.
This was contained in a press statement released on Monday by Oonis's Director of Media, Comrade Moses Olafare who said the launching ceremony expected to be chaired by HRM, Oba Francis Olusola Alao, the Olugbon of Ile-Igbon and Vice Chairman, Oyo State Council of Obas and Chiefs is slated to hold 11am on Saturday, 14th July, 2018 at the Oduduwa Hall of the prestigious university.
According to him, the book, published by Princess Ronke Ademiluyi and House of Oduduwa Foundation, in collaboration with the Institute of Cultural Studies, Obafemi Awolowo University talked about the strength and power of a woman in ancient Yoruba history, warning that the people must prevent the rich Yoruba culture and history against extinction.
"People without history and culture are doomed to extinction. This book
Queen Moremi Ajasoro reminds us about the pride of womanhood to encourage the values of decency, courage, hardwork, justice, sacrifice for public good, contentment and integrity." Olafare said
The statement also quoted the House Of Oduduwa Foundation's CEO, Prince Jide Fadairo regretting that many historical facts about Yoruba heroes and heroines were lost due to lack of recognition and proper archival preservation.
He maintained that the book was very necessary to get people well informed about Moremi Ajasoro as an epitome of bravery, courage and liberation that should always be celebrated.
"In recent times, we have observed decline and near extinction of our culture. Many yawn for history and many lack knowledge of history as so many historical facts have been lost due to lack of recognition and proper archival preservation," he said.
"Moremi Ajasoro was an epitome of bravery, courage and liberation worthy of an unforgettable place in our hearts. This book provides the opportunity for everyone to be well informed about her role and most importantly to be used in all our schools for the benefit our teeming youths." Prince Fadairo maintained.
Also quoted in the statement, Director of Institute of Cultural Studies, OAU, Dr Ayo Omidire praised Ogunwusi for his cultural tourism revolution.
He assured that the literature book on Queen Moremi Ajasoro which would be the first of its kind to be written in both Yoruba and English would greatly help in reviving the rapidly vanishing history and culture of Yoruba people.
Meanwhile, Princess of Ronke Ademiluyi of the London/African Fashion Show and Mrs Moremi Soyinka Onijala had a month ago during a press briefing in Lagos spoken on the book which has its forward written by Chief Olusegun Obasanjo
and dedicated to the wife of Ogun State, Mrs Funso Amosun.
Load more