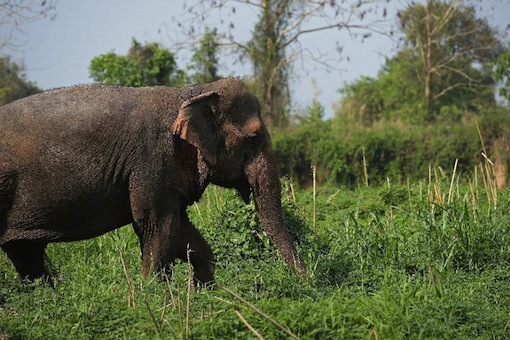 The management of the Yankari Games Reserve and Safari, Bauchi has confirmed the death of two persons who were killed by Elephants, near Bajama village close to the reserve.
According to a statement signed by the Sole Administrator of Yankari Games Reserve, Habu Mamman, the incidence happened on the 8 July, 2018 when the Elephants went out of the reserve through Sharam early in the morning and headed towards Bajama village.
"The elephants went to Gwartanbali forest where villagers living around there got excited and came in large numbers and put the elephants in a circle, taking pictures and trying to touch them.
"Tragedy struck when the elephants got charged and scattered the crowd and the villagers all ran for safety but as a result, they pushed down a 9-year boy called Fa'izu Chiroma Musa who was trampled by one of the elephants and he died on the spot around 10 am," Mamman.
The Sole Administrator said that the elephants proceeded in the forest and onlookers kept on following them, but unfortunately another 45 years old man Malam Haruna Abubakar who was trying to get a close picture of the elephants was hit by one of the elephants and he died on the spot around 4 pm.
"It took our rangers some hours to control the crowd who kept on following the elephants before they could chase back the elephants into the reserve. Normally the Rangers are able to provide rapid intervention and chase the elephants back into the reserve when they go out but this case was difficult because the villagers were very excited and wanted to go close and touch the elephants. They said it is their first time of seeing and coming in contact with elephants", the statement added.
Mamman, who said that conflict between Elephants and humans was not uncommon around Yankari Games Reserve, noted that it was the first fatality case the reserve had recorded in a long time.
"We have visited the families of the deceased and they said that they were ignorant that Elephants can be dangerous and admitted that it was their fault to get close to the Elephants.
"It takes about three hours to drive from the Yankari gate to both villages", the Administrator said, in a report by Tribune online.
Load more