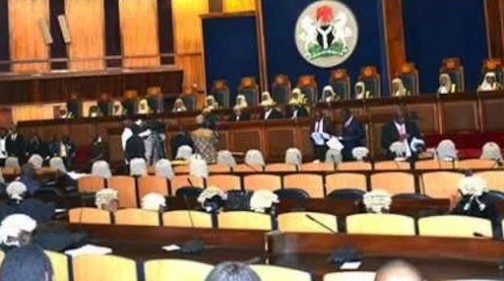 The Supreme Court of Nigeria has dismissed all appeals filed by Ecobank Nigeria Plc in the ongoing dispute between the bank and Honeywell Group.
In a unanimous decision by the learned judges on Friday, the court ruled that Ecobank's applications lacked merit.
Delivering judgment, the justices of the apex court reprimanded Ecobank's lawyers for wasting the Court's time by filing appeals which it described as frivolous, particularly in the light of the myriad of critical matters before the court.
The Supreme Court also warned Ecobank's lawyers against filing such applications in future and awarded costs totaling N2,500,000 against Ecobank.
Before the Supreme Court ruling, Ecobank Nigeria Plc had previously suffered defeat in its dispute with Honeywell Group at the Court of Appeal when the appellate court also ruled against it.
In a unanimous decision delivered by the Court of Appeal on 30 March, 2016, the appellate court discharged the exparte injunctive/asset freezing orders obtained by Ecobank against Honeywell.
The Court of Appeal also affirmed the jurisdiction of the Federal High Court, Lagos to hear the suit filed by Honeywell against Ecobank whilst ordering accelerated hearing by the trial court.
It was these decisions by the Court of Appeal that Ecobank challenged at the Supreme Court.
But in its ruling on Friday, the Supreme Court held that Ecobank's appeals were frivolous and they were dismissed.

Load more