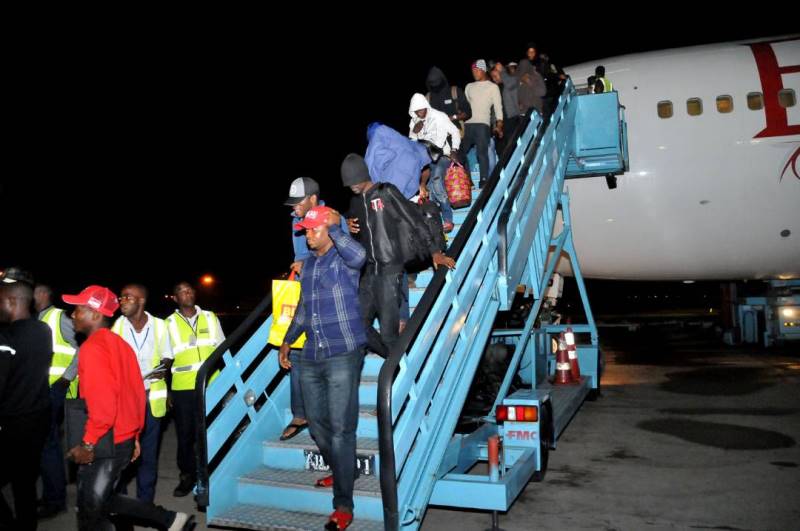 National Agency for the Prohibition of Trafficking in Persons (NAPTIP) has launched investigations into the alleged trafficking of Nigerian minors to Russia in the guise that they were football fans attending the 2018 World Cup.
The Director-General of NAPTIP, Mrs Julie Okah-Donli, made the disclosure to newsmen in Lagos on Tuesday.
Okah-Donli said the agency would leave no stone unturned to ensure that those behind the trafficking of 230 Nigerians, including minors, stranded in Russia after the tournament were fished out and prosecuted.
President Muhammadu Buhari on July 16 directed the Minister of Foreign Affairs, Mr Geoffrey Onyeama, and his Aviation counterpart, Mr Hadi Sirika, to evacuate the Nigerians to Abuja immediately.
Following the directive, a chartered Ethiopian Airline flight on July 20 conveyed 155 stranded Nigerians back to Abuja.
The Federal Government also vowed to arrest and prosecute the travel agents who cancelled the return tickets of the 230 Nigerian football fans stranded after the World Cup.
The fans had alleged that their return tickets were cancelled abruptly by airline agents, resulting to their being stranded in Russia without any hope of returning home.
Okah-Donli said although few minors were screened and given papers by NAPTIP for the tournament, the agency did not screen majority of minors who travelled as fans for the tournament.
"We wrote to the Nigeria Football Federation asking for the details of all those who went to Russia for the World Cup.
"Our investigations will be geared towards finding out sponsors of all minors involved who travelled without proper documentation with NAPTIP and the airlines that issued the tickets," she said.
She said that sponsors, airlines, and travel agents who procured the visas would all be prosecuted when the investigations were concluded.
The director-general further said that the agency had prosecuted 359 persons for trafficking since its inception.
"Under my watch as DG in the last one year, NAPTIP has prosecuted 43 persons for trafficking.
"We have continued the rehabilitation of those rescued. Some of them are in the universities, some in secondary schools and others learning one trade or another they do desire.
"The fight against child trafficking cannot be won by government alone. It needs concerted and collective efforts of all Nigerians," she said.
On the plans of the agency for the July 30 World Trafficking Day, the NAPTIP DG said that it planned to continue creating awareness on the menace of trafficking.
"We will have walks and we have invited stakeholders to come join in creating the awareness that the Federal Government must be supported in this fight.
"I will also use the occasion to launch the two books I have written on child trafficking," she added.

Load more