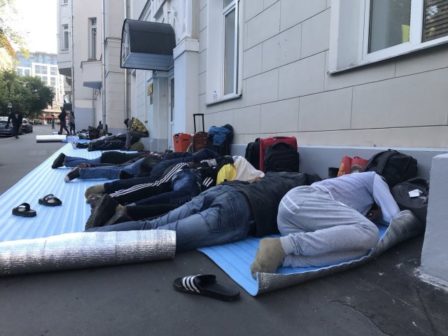 The Ministry of Foreign Affairs said 75 out of 230 stranded Nigerian Football fans vanished in Russia after the 2018 FIFA World Cup .
The ministry's spokesperson, Dr Tope Elias-Fatile, revealed on Wednesday in Abuja that the fans absconded in spite of government's efforts to repatriate them.
Fatile said that 230 stranded Nigerian football fans were profiled to board chartered Ethiopian Airline to Abuja but at the last minute, only 155 boarded the flight.
"As at the last count, over 230 stranded Nigerians had been cleared to board an Ethiopian Airline flight to Abuja, however, only 155 boarded the flight that arrived Friday night July 22," he said.
He said that the ministry officials had to contribute to feed some of the stranded Nigerians in Moscow as many of them were left with nothing.
He said that though they had the rights not to come back, it would be better for them to return because of the unfavourable weather in that country.
He said that the mission had done a lot to facilitate their coming back, but they did not appreciate it.
"Do you know that the officials at the mission had to sacrifice their earning by contributing money to feed the stranded fans?," he said.
He said that if, however, they repented and decided to come back, the ministry was ever ready to assist them.
Fatile said that Federal Government was ever willing to assist Nigerians at anytime, anywhere in the world.
The spokesperson said that the Minister of Foreign Affairs, Mr Geoffrey Onyeama, had also made some contacts with relevant agencies to commence investigation into suspected human trafficking in the case.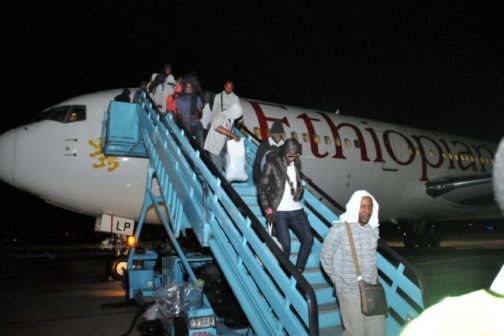 The stranded football fans including a nursing mother in her mid-thirties arrived Nnamdi Azikwe International Airport Abuja at about 9.12 p.m. on July 20.
The Minister of Foreign Affairs, Mr Geoffrey Onyeama, who was at the airport to monitor their arrival, had said that the Federal Government was going to probe the case.
Onyeama said that the plan to probe the issue surrounding the incident was underway.
He said after a discussion with the Director-General of National Agency for the Prohibition of Trafficking in Persons (NAPTIP), Ms Julie Okah–Donli, it was clear that there were possible cases of human trafficking among the returnees.
"I have spoken to the D-G of NAPTIP and she had also indicated that they had sounded the alarm bells for these young children not to leave the country, that it had all the hallmarks of trafficking and irregular migration," he said.
The minister insisted that some of them, among whom was a nursing mother, were quite too young to have travelled to Russia by themselves solely for the purpose of the World Cup tournament.
He added that an investigation would also be launched into an allegation that some travel agents cancelled the return tickets of the football fans without informing them, leaving them stranded in the European country.
Load more