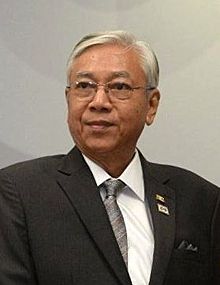 Myanmar on Monday established a commission to "investigate the allegations of human rights violations" in western Rakhine State, amid increasing international calls for accountability over the mass exodus of minority Rohingya Muslims from the country.
The four-member commission, which includes two foreign envoys, will investigate violations following Rohingya militant attacks in August 2017, which sparked a brutal military crackdown, according to a president's office statement released Monday.
Rights groups and UN experts have recently called on the International Criminal Court to prosecute Myanmar for its persecution of Rohingya, 700,000 of who fled across the border to Bangladesh reporting killings, rape, torture and arson at the hands of the Myanmar military.
The secretary of an international panel set up by Myanmar to advise on the Rohingya crisis quit his post earlier this month, claiming the advisory board had not been allowed to accept international funding or set up an office.
Veteran U.S. diplomat Bill Richardson resigned soon after the panel's formation, saying it was likely to become a "cheerleading squad'' for government policy and accusing Myanmar's de facto leader Aung-San Suu-Kyi of lacking "moral leadership."
An army investigation released in November 2017 found no evidence of mass rape, beatings, extra-judicial killings or destruction of property by security forces against the country's Rohingya Muslim minority.
The Independent Commission of Enquiry established Monday is headed by former deputy foreign minister of the Philippines, Rosario Manalo, and includes a former permanent representative of Japan to the UN, a former chair of Myanmar's constitutional tribunal and a former senior UNICEF official.

Load more