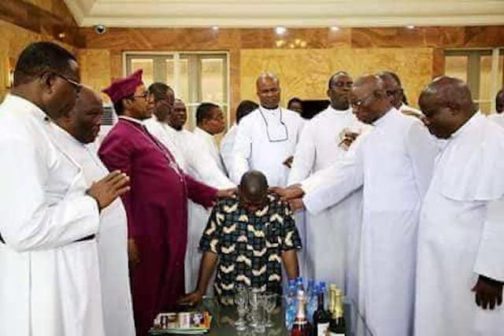 Some pastors have reportedly turned up at the Asokoro home of Deputy Senate President Ike Ekweremadu, to offer him special prayers.
Photographs published on Twitter showed the pastors placing their hands on the PDP senator, who was on his knees.
Ekweremadu was recently interrogated by the Economic and Financial Crimes Commission for alleged money laundering and properties acquired in Nigeria, United Kingdom and the United Arab Emirates.
In one of the photographs, the unsmiling senator listened to some preachment by one of the clergymen.
The trending photographs have been generating reactions on Twitter.
Some of them read:
@PhilipObin
"30 Pastors stormed Ekweremadu's house to pray for his deliverance from EFCC" pic.twitter.com/V0F7FxcG1x
@cbngov_akin1
The Deputy Senate Pres who is still traumatized with d allegation of his ownership of 60 choice properties around the globe has resorted to divine intervention.
"Don't we get these ones looted the roads and other infrastructures from that region to acquire all dos properties?"

Load more