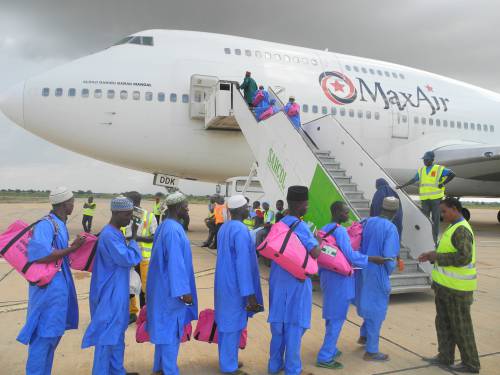 Max Air Ltd said on Wednesday it was set to complete the transportation of pilgrims as it had so far flown 23,500 out of its 26,000 allocation to Saudi Arabia for the 2018 Hajj.
The Airline's Public Relations Manager, Alhaji Ibrahim Dahiru, told the News Agency of Nigeria (NAN) in Kano that the pilgrims were transported to the Holy land in 44 trips.
He said they were transported to the Holy land via various airports across the country.
"As at today (Wednesday evening), the airline has airlifted 23,500 out of the 26, 000 pilgrims allocated to it for transportation to Saudi Arabia,"he said.
He said the backlog of pilgrims from some of the states would be combined in one or two flights for transportation to the Holy land on Thursday.
"If things go as planned, we shall complete the airlift of our pilgrims to Saudi Arabia on Thursday, ahead of the deadline for the closure of the King Abdul'aziz International Airport, Jeddah,"Dahiru said.
The airline's pokesman commended the National Hajj Commission of Nigeria (NAHCON) and state pilgrims welfare boards as well as other stakeholders for their support and cooperation to the airline which led to the success of the operation.
He urged them to sustain the tempo during the return trips of the pilgrims from the Holy land to Nigeria.
According to him, the airline has also transported 8, 856 intending pilgrims from Niger Republic in 16 flights.
"As we are set to complete the airlift of the pilgrims, we are also ready for any rescue operation in the event we are called to assist," he said.
The Saudi authorities have declared Aug. 20 as Arafat day while Id-el-Kabir is Aug 21.

Load more