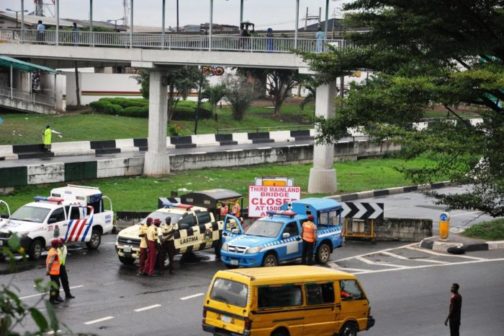 The Federal Controller, Works, Lagos, Mr Adedamola Kuti on Friday said that tests on 15 expansion joints on the Third Mainland Bridge have been completed.
The 11.8km bridge was closed to traffic on Aug. 24 for investigate maintenance tests, expected to last for three days till Aug. 26.
Kuti told the News Agency of Nigeria (NAN) on telephone that a lot of progress was made in testing some expansion joints on the bridge during the day.
"We made significant progress today with good weather, we would continue tomorrow by the grace of God.
"The expansion joints are many, so, we have to pick them one after the other, the test is being conducted on each of them.
"We have done about 14 or 15 today, that we have tested,'' he said.
Kuti however did not say the total number of expansions joints to be tested as he was in a hurry to attend a meeting as at press time.
Meanwhile, commercial transport operators seized the opportunity of congestion outbound Eko and Apongbon Bridges at the close of work to make brisk business by doubling their fares.
It was observed that traffic out of the Island was thick on both the Eko Bridge and Apongbon Bridges with the congestion extending to around Ojuelegba.
Officials of the Lagos State Traffic Management Agency (LASTMA), FRSC and the police were seen directing traffic from the Island and had patrol teams and vehicles stationed on the bridges.
However, many commuters were caught in the web of the arrangement and were at the mercy of commercial transport operators who, in some cases, doubled their fares.
Some commercial motorcyclists charged passengers as much as N1,000 from CMS to Ojuelegba.
Some of the motorcycles operators in a bid to make quick trips rode on the road median between Alaka and Stadium ignoring damage to flowers along the route.
It was also observed that commercial bus drivers at the General Hospital park increased their fares for Iyana Ipaja from N300 to N500, while they charged N600 for the Egbeda/ Estate axis as against N350.
Also, commercial bus drivers increased fares for Obalende to Oshodi route to N300 as against N150 or N200.
Mrs Cynthia Oriade, a business woman in Ikoyi said that it was difficult for her to move out of Ikoyi.
"Everybody is trying to run out of the Island at the same time because of this Third Mainland Bridge that they closed.
"The Okada people are not helping matters. They take advantage of every small problem on the road, to begin to call high prices,'' she said.
A commercial motorcycle operator, Mr Bashir Hashiru said that the hike in fare was to compensate for time lost maneuvering through gridlock on the bridges.
"If I take a passenger from around Obalende to Oj
uelegba for N1,000 it is not too much because it is hard to even pass. The road is blocked and I may not get passengers coming back.
"From Obalende, we charge N1,200 and if it is CMS we take only N1,000'' he said.
Some of the drivers who spoke to NAN insisted that the exorbitant fares charged were to accommodate inconveniences and time being wasted on the road.
One of the drivers, Mr Idehen Eyaye told NAN that "the situation on ground is what sets the price. It is not our fault''.
Mrs Adebisi Bolaji, a banker however, said that gridlock was a common occurrence during weekends in the axis.
"A lot of people always leave the Island on Friday and come back on Monday, so, weekend traffic from the island is always like that but the Third Mainland Bridge worsened it,'' she said.

Load more