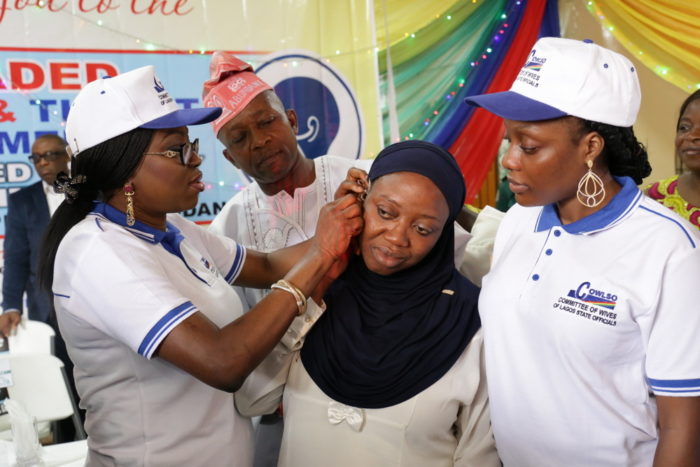 By Kazeem Ugbodaga
For too long, there has been several cases of pregnant women and their babies dying of conditions such as pregnancy-induced hypertension, convulsion or shock arising from post-delivery bleeding in Lagos and Nigeria in general.  A good number of such cases come in extreme conditions, which without the existence of a well-equipped Intensive Care Unit, ICU, death seems inevitable for the mother, baby or both. Late referral of emergency baby delivery cases from traditional birth attendants and faith-based homes to government's health facilities, had become a major challenge, requiring the services of an ICU, to save endangered mothers and their babies.
But the sad thing is that most private and public hospitals do not have modern Intensive Care Unit, ICU, to cater for the growing demands. This was why in October, 2017, the Committee of Wives of Lagos State Officials, COWLSO, waded in by donating an ultra-modern Intensive Care Unit to the Lagos Island Maternity, and other health interventions to other hospitals in Lagos, Southwest Nigeria.
The ICU commissioned was equipped with state-of-the-art modern facilities such as humidifier, multi parameter monitors, portable multi parameter monitor and volumetric infusion pump. Others are portable suction unit, blood fluid/warmer, automatic external defibrillator, marquet servo air intensive care ventilators, ICU Beds, pressure relief mattress and pump, among others.
COWLSO is a community based gender organisation working to complement the effort of the Lagos State Government to promote child healthcare, empower women to discover their hidden treasures and protect our environment. COWLSO was founded in 1974 by the wife of the first Military Governor of Lagos State, Mrs. Funmilayo Johnson. Since 2015, COWLSO is being driven by the wife of the Lagos State Governor, Mrs Bolanle Ambode. Pundits have said the Lagos First Lady has taken COWLSO to an enviable height and repositioned it for effective performance and delivery.
In the last three years, COWLSO has been impacting on lives of Lagosians. The downtrodden have been given hope, several interventions have gone on in communities and are still going on, championed by Mrs Ambode. COWLSO consists of members who are interested in promoting children healthcare, empowering women and protecting the environment, specifically in Lagos State and Nigeria. The goal of Chairperson of COLWSO, Mrs Ambode, is to continue to partner the government, to end mother and child mortality in the state.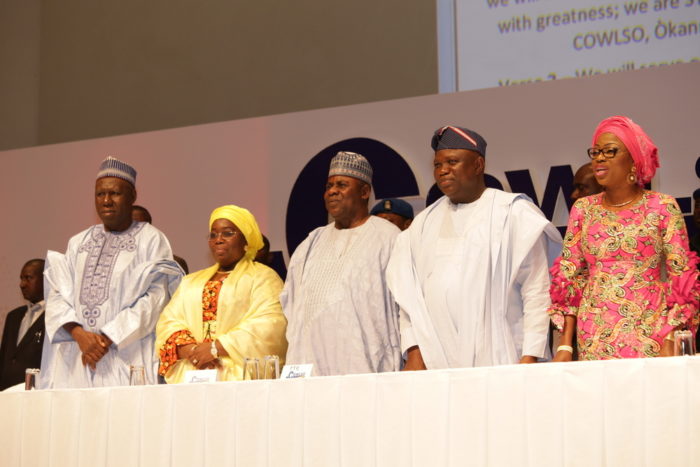 This goal was the driving force which led to the donation of the ICU to the Island Maternity in 2017, plus a neo-natal hearing screening equipment donated to Gbagada General Hospital, Ikorodu General Hospital, Badagry General Hospital and Ifako-Ijaiye General Hospital, to prevent rising cases of hearing impairment. Earlier in 2016, COWLSO had donated the Ear, Nose and Throat (E.N.T) equipment to the General Hospital, Odan, Lagos Island.
Mrs Ambode saw the decision to upgrade the E.N.T Department of the hospital with modern equipment and furniture, as one borne out of the need for critical intervention to drastically reduce the percentage of people suffering from hearing loss, as the new equipment had the capacity not only to detect hearing impairments in adults, but in children and new-born. "Using hearing aid presents a number of advantages for a hearing-impaired person and these include improved oral expression. With a modern hearing aid, they not only understand others better, but others can understand them better too.
"Studies also show that hearing aids generally improve the quality of life and help affected persons get better relationship with family; feel better about themselves; get better mental health; and concentrate better at school. It also helps them feel more independent and secure. Our aim in this regard is to ensure that hearing defect does not constitute a limitation to children of school age, as well as adults," Mrs Ambode said.

One critical area which COWLSO had intervened in recent years was the free Goitre surgery. Goitre has been a major challenge to many people in Lagos, especially those in Badagry. Goitre is an abnormal enlargement of the thyroid gland. Thyroid is a butterfly-shaped gland located at the base of one's neck just below one's Adam's apple. Although goitres are usually painless, a large goitre can cause a cough and make it difficult for sufferers to swallow or breathe.
Mrs Ambode said COWLSO had noted with deep concern the weekly diagnose of women with the disease, majority of which required surgery, adding that the decision to sponsor surgeries was informed by the high cost involved. About 30 women were selected for surgeries which include surgery tests and drug administration.
Since 2015, Mrs Ambode has presided over three National Women's Conference, NWC hosted by COWLSO. The national conferences represent an improvement of what obtained in the previous administrations. In 2016, the theme of the 16th NWC was "Strong Family, Strong Nation." For two days, the women brainstormed on how to move the family forward for a better nation, with lots of speakers invited to drive the discuss.

In the end, the NWC, piloted by Mrs Ambode stressed the need for food skills of parenting, which are essential for effective child-rearing, while resolving that children in Nigeria must develop specific skills to meet society's demand so that they did not develop a sense of inferiority. The conference charged parents to realise that technology could be good and also very bad, and that parents should therefore prevent their children from the harmful effect of technology.  The conference added that Lagos State has taken proactive steps to combat domestic violence and child neglect which seemed to be on the increase in our society, among others.
In 2017, the conference has the theme: "She Creates, She Transforms." It was expected to focus on ingenuity of the Nigerian women in the pursuit of innovative and practical solution aimed at achieving sustainable development within her immediate sphere and community at large. The conference played host to five Nigerian governors-Akinwunmi Ambode (Lagos), Ayodele Fayose (Ekiti), Seriake Dickson (Bayelsa), Udom Emmanuel (Akwa Ibom) and Godwin Obaseki (Edo). Wife of the Vice President, Mrs Dolapo Osinbajo was also at the programme.
Mrs Ambode had said that "Women are uniquely created, endowed with skills and blessed with creativity. We are helpmates, we care for the family. We impact our immediate environment positively. The woman out of very little creates. We transform the little created to something bigger and better. Our transformation efforts extend to all facets of human engagement."
She urged women to rise and have zero tolerance for the barbaric practice of female genital mutilation, saying that the campaign must start from the homes, churches, mosques, offices, among others.
According to her, "female gender mutilation is evil, it is evil, it is anti-social and unjustifiable. In fact, it is a crime against women. We must devote time for enlightenment and awareness, especially among uneducated mothers. We must stand together against it until the practice is totally eradicated in our country and the world."
Mrs Ambode said women must never fall to the temptation of pursuing economic empowerment at the expense of taking good care and paying attention to their children, warning that children, who did not enjoy good parental care, easily grow to potentially dangerous youths, who becomes nightmares for the society.
"We must desist from and discourage child-labour, Child Abuse and fight child-trafficking with all our strength. We owe it a duty to give good parenting to our children and indeed all other children put in our care. We must give them hope and allow them see the positive side of life as a way of bringing back good morals and societal stability," she said.
At the end of the NWC, the women called for more advocacy to encourage women to explore their innate abilities to make a difference, as well as charged women to source for funds through grants equity and debt financing. The conference also urged government to provide land and conducive environment for women farmers, adding that women could source funds through grants, equity and debt financing, among others. It also urged government to provide more opportunities and full support for young women and youths, to acquire skills for agri-business, while women should be empowered to take care of the family, community and nation, among others.
The conference identified the challenges in lending to women in micro, small and medium enterprises [MSMEs] and remedies to those challenges, charging women to step up and not be afraid of being more successful than their spouses, and that they must be willing to invest more to expand their pool of income, while women could source for funds through grants equity financing and debt financing.
Another innovation by COWLSO was its Retirement Villa, a recreational centre where retirees and other individuals can relax. The villa has been upgraded by the Mrs Ambode-led COWLSO, with facilities, such as lodging and accommodation; 12 private individual chalets; multi-purpose hall for various events, two syndicate Rooms, sporting arena & Games Room, GYM, wellness centre and two separate swimming pools for adults and children.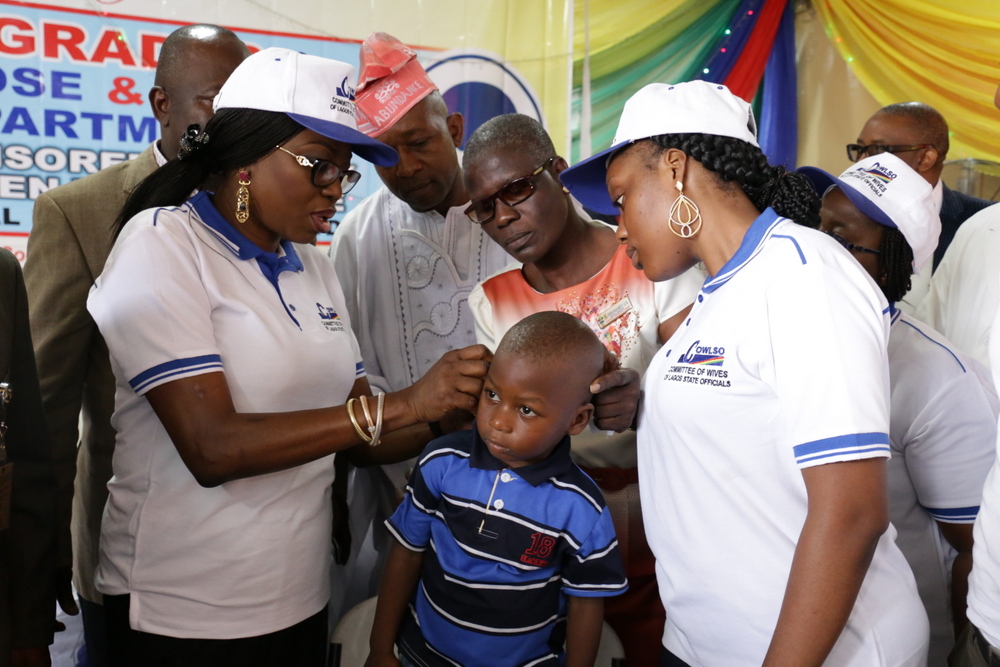 Undoubtedly, Mrs Ambode has repositioned COWLSO through series of interventions from the meager amount of money being generated annually from the National Women Conferences, sponsorship and donations. The rate of intervention in empowering the downtrodden, health, among others, have been scaled up.
Asides the NWC, Mrs Ambode has also held capacity building programme for COWLSO officials to sharpen their skills as wives of government officials. The capacity building was a major component of modern-day corporate and public service, for performance leverage at home and public engagements.
According to Mrs Ambode, "The need to continually improve ourselves for domestic, social and professional purposes is the reason we have organized this training programme. It is expected to acquaint us with current trends and update our knowledge in relevant and vital areas. We hold the view that self-improvement training like this, will bring out optimal performance for those in paid employment. It will also help to bring out the best in us, in various personal businesses and our social interactions."
Already, Mrs Ambode is preparing COWLSO to host the 2018 NWC, expected to be the last before the end of Governor Akinwunmi Ambode's first tenure in office, but pundits are saying that the governor's wife would be around to pilot the affairs of COWLSO for another four years as Ambode is sure to be re-elected due to unparalleled performance in his first term. With the stage set for such in 2019, it is expected that COWLSO will be taken to another level in the next administration, with Mrs Ambode holding sway.

Load more