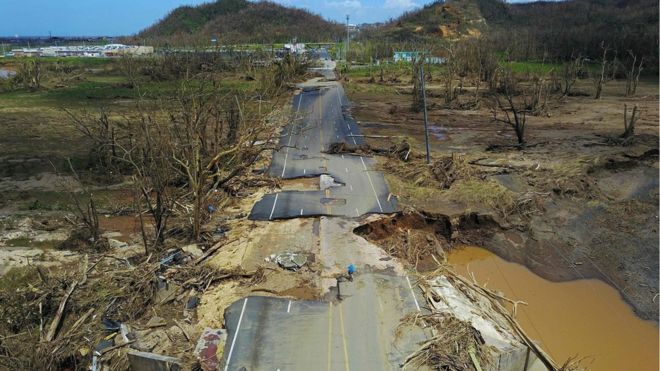 Officials in Puerto Rico now say 2,975 people died following Hurricane Maria – a devastating storm that struck the US island territory in September 2017.
The revised death toll is nearly 50 times the previous estimate of 64.
Governor Ricardo Rossello "accepted" the findings in a long-awaited commissioned independent investigation.
Puerto Rico has struggled to repair its infrastructure and power grid since the storm, and is asking US Congress for $139bn (£108bn) in recovery funds.
"I'm giving an order to update the official number of deaths to 2,975," governor Ricardo Rossello said at a press conference. "Although this is an estimate, it has a scientific basis."
The authorities have faced nearly a year of criticism for underreporting the true toll of Maria – the most powerful storm to hit the region in nearly 90 years.
The government earlier acknowledged the death toll was much higher than their official figure of 64. However, it did not change the total, despite some experts estimating 4,600 deaths.
The latest findings – accepted by the island's authorities – were made in a report by researchers from George Washington University.
It tracked the number of deaths from when Maria struck the island in September 2017 to mid-February of this year.
Many people died as a result of poor healthcare provision and a lack of electricity and clean water. Repeated power outages also led to an increased number of deaths from diabetes and sepsis.
The Caribbean island is home to 3.3 million US citizens, some 8% of which have since left the island, the study said.
Media captionMonths after Maria, many on this US island still suffered in the dark
The study also said that those from poorer backgrounds in Puerto Rico were 45% more likely to have been killed in the aftermath of the hurricane.
"The results of our epidemiological study suggest that, tragically, Hurricane Maria led to a large number of excess deaths throughout the island," principal investigator for the report, Carlos Santos-Burgoa, said.
Hurricane Maria caused the largest blackout in US history, according to research consultancy the Rhodium Group.
-BBC