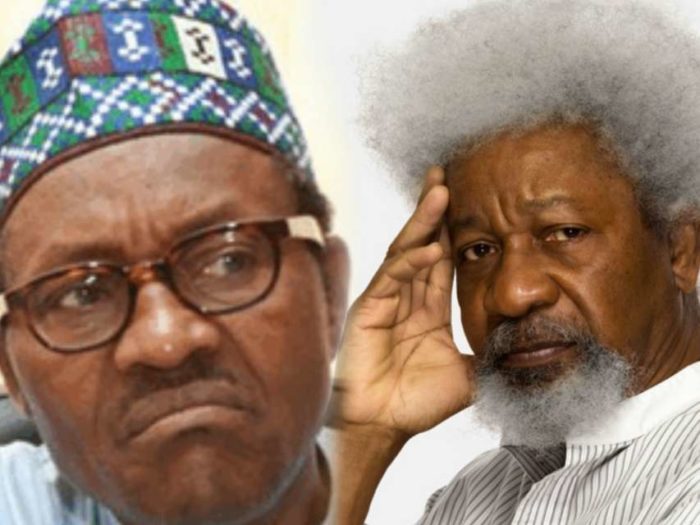 By Kazeem Ugbodaga
Nobel laureate, Prof. Wole Soyinka on Thursday warned President Muhammadu Buhari to stop subverting the rule of law.
Soyinka spoke in view of recent cases in which the Buhari-led administration was found wanting of subverting the rule of law in his usual dictatorial style during the military regime.
The Nobel laureate, in a statement, titled: "Buhari's Pernicious Doctrine," said just like what the president did when he was a military dictator by sending two journalists, Irabor Thompson to jail in flagrant abuse of press freedom, hiding under 'national interest,' the same scenarios were being played back in a democratic regime.
"Here we go again! At his first coming, it was "I intend to tamper with Freedom of the Press", and Buhari did proceed to suit action to the words, sending two journalists – Irabor and Thompson – to prison as a reward for their professional integrity.
"Now, a vague, vaporous, but commodious concept dubbed "national interest" is being trotted out as alibi for flouting the decisions of the Nigerian judiciary. President Buhari has obviously given deep thought to his travails under a military dictatorship, and concluded that his incarceration was also in the "national interest".
"The timing is perfect, and we have cause to be thankful for the advance warning, since not all rulers actually make a declaration of intent, but simply proceed to degrade the authority of the law as part of the routine business of governance. We have been there before," he said.
Soyinka said it should be of mere interest, not despondency, that this latest proclamation of dictatorial recidivism had also been made before an assembly of officers of the law, the Nigerian Bar Association, saying that he expected a robust response from the NBA as part of its conclusions.
According to him, there is no short cut to democracy, as the history of law, even where uncodified, was as old as humanity, saying that numerous rulers had tried again and again to annul that institution, while dometimes, they appeared to succeed, but that in the end, they paid heavy forfeit.
"So does society. The Rule of Law, however, outlasts all subverters, however seemingly powerful. If the consequences for society in defence of the Rule of Law were not so costly, any new attempt would be merely banal and boring, hardly deserving of attention. We know, historically, where it will all end," he added.
Load more