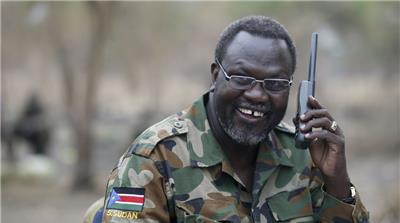 South Sudanese rebels lead by Riek Machar inked a peace agreement with the government aimed at ending the county's devastating five-year civil war on Thursday in Khartoum.
Machar had caused anxiety among negotiators earlier this week by refusing to sign, but the inking went ahead after all, with the rebels' concerns reportedly set to be fully addressed later by the East African regional bloc Intergovernmental Authority on Development (IGAD).
"By signing this document today, we have reached the conclusion of these negotiations, which consisted of two rounds, one about the outstanding issues and the other on the subsequent issues," Sudanese Foreign Minister Al-Dirdiri Mohamed Ahmed told reporters.
"The final signing of the peace deal will happen at a summit of IGAD," Ahmed added.
Sudan has been instrumental in brokering peace talks between South Sudan's warring factions.
The peace deal agreed on Aug. 3, allowed for the creation of a transitional government, with Machar to be reinstated as vice president.
But Machar's party on Tuesday expressed reservations on some points of the deal, most notably the division of power in the country's states as well as issues with the constitution.
South Sudan – the world's newest country – descended into civil war in 2013 after President Salva Kiir accused Machar, then his deputy, of plotting a coup.
Years of civil war have since left tens of thousands of people dead, and about 4 million South Sudanese have fled the fighting.
Previous agreements have collapsed after warring parties failed to respect them and numerous ceasefires have been broken.

Load more