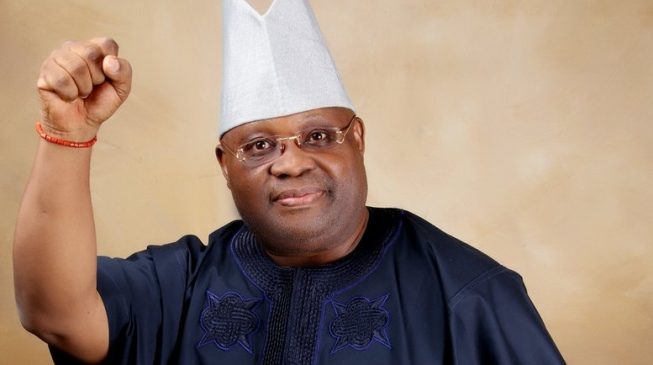 The Peoples Democratic Party (PDP) governorship candidate in Osun state, Sen. Ademola Adeleke and the runner up at the primaries, Dr Akin Ogunbiyi have agreed to work together for the party's victory in the Sept. 22 election.
The two stalwarts of the party on Wednesday signed a Memorandum of Understanding (MoU) after a reconciliation meeting presided over by the Senate President, Sen. Bukola Saraki at his Abuja residence.
Ogunbiyi had faulted the primaries that produced Adeleke, while some other stakeholders challenged his candidacy in court on grounds of his educational qualification.
Saraki speaking with newsmen after the ceremony said the MOU between was not just between Adeleke and Ogunbiyi, but involved all the PDP stakeholders in Osun state.
He said that with the coming together of the two party men, hitherto thought irreconcilable, the PDP is now a united family in Osun state.
Saraki is also the Chairman of PDP National Campaign Team For the Osun poll.
"We are very happy with what we have seen today. The credit goes to two of them, Sen. Ademola Adeleke and more particularly, Dr Ogunbiyi.
"We have all gone through election and we know what is like to lose an election. Ogunbiyi and Adeleke have put the party first and they have come together in the interest of the people of Osun state, to rescue the people.
"So what you have just seen is a sign that Osun PDP is united, and with a united PDP, victory is sure for the party in the election in the next two weeks."
Sen Adeleke expressed joy for the rapprochement with Ogunbiyi. He said God has answered PDP's prayer.
He commended the PDP leadership for the reconciliation .
"For us and the PDP victory is assured and by the grace of God we are going to win the gubernatorial election come 22nd.
"The electorate are waiting for us. I believe that they want us and this is what they have been waiting for, because after primary there should be reconciliation.
"With this reconciliation everybody is happy, the electorate are waiting for us and sure victory is ours."
Ogunbiyi said the reconciliation was for the interest of the Osun people and Nigeria at Large.
"We believe Osun for us most be taken, for us to be able to wrest power from the All Progressives Congress come 2019. And we are going to work together for the party's victory in the September 22nd gubernatorial election."
Load more