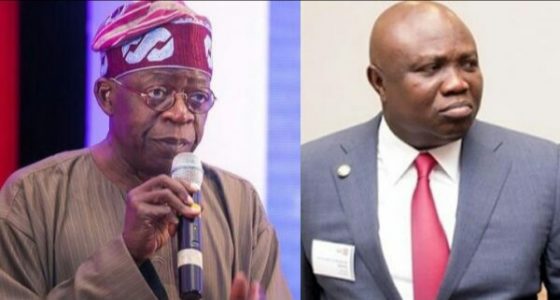 There is a very strong indication that Lagos State Governor, Akinwunmi Ambode will be given the All Progressives Congress, APC, ticket to vie for a second term in 2019, as President Muhammadu Buhari and other APC national leaders are mounting pressure on the APC National leader, Asiwaju Bola Tinubu to allow him to contest.
In recent days, lingering feud between Ambode and his godfather, Tinubu has seen the emergence of former Commissioner for Establishments, Training and Pensions, Jide Sanwo-Olu picking up the governorship form in Lagos as he is said to be the anointed candidate to replace Ambode.
The crisis between the duo led Buhari to invite Tinubu to Abuja to chat a new way forward.
A top government source who craved anonymity told PM News that the crisis between the duo has been resolved by the president.
According to the source, "I learnt it has been resolved. But I cannot confirm yet. I am expecting details of the meeting with the President. Hopefully, it looks as if it would be resolved with the high-level meeting with President Buhari and other APC national leaders."
Another strong party source said the president "is meeting with the both parties. He is resolving the crisis already. All of them are still in the meeting. All the issues will soon be resolved."
However, another strong party source said Buhari invited Asiwaju to Abuja and that he had already gone, saying that he ought to have gone Wednesday night. But he could not make the trip for some reasons. In actual sense, most party leaders do not want Ambode to come back again.
"The elders are saying they do not have access to the governor. They are saying they have been shut out of the government. It appears they have made up their minds they are not going to support Ambode's re-election. So, it is going to be difficult to convince the elders to accept Ambode again because of what they have suffered under this administration in the last three years.
"It is above Tinubu. I know Tinubu will present cases against Ambode to the President. But we cannot rule out resolution with Buhari's intervention.
"About 11 commissioners are planning to contest because they are not really benefiting from this government. Apart from the party elders, the youths, market women and all interest groups are no longer in support of the governor. People are even threatening to support another party if Tinubu endorses him at last."
Earlier, Dele Momodu, Publisher of Ovation, on his twitter account said the issue had been resolved and Ambode was now free to contest.
He said: "A LONG WALK TO FREEDOM… Governor AKINWUNMI AMBODE bounces back as godfather ASIWAJU BOLA TINUBU calms down tension in Lagos… Thanks to PRESIDENT MUHAMMADU BUHARI and VICE PRESIDENT PROFESSOR YEMI OSINBAJO…"