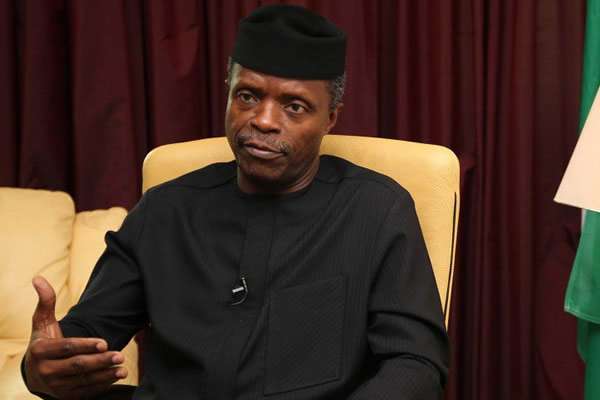 The Vice President, Prof. Yemi Osinbajo, on Thursday said 500,000 graduates had so far been recruited under the Federal Government's N-power programme.
Osinbajo disclosed this at a conference tagged: "Harnessing Demographic Dividend (DD) for Sustainable Development in Nigeria: The Role of Religious Leaders,'' organised by United Nations Population Fund (UNFPA) in Abuja.
He noted that the present administration under the leadership of President Muhammadu Buhari had introduced various intervention programmes to empower women and youths in order reduce unemployment and poverty.
The vice president added that about 400,000 Nigerians were currently benefitting from the Conditional Cash Transfer Scheme of the present government.
Osinbajo also said that no fewer than 9.2 million children were being fed daily under the federal government's school feeding programme.
Besides, he said that the states that keyed into the programme had risen from 25 to 26 as at this month.
On Democratic Dividend (DD), Osinbajo said that to avoid 'the time bomb' the government must build economy that would support the growing population of the country.
He said that gaining economic advantage involved national consensus and individual families must key into this programme of achieving the DD.
According to him, it is now the business of heads of families to prioritise the education and health of their dependents.
The vice president, who emphasised the need to invest in people through social inclusion, said that getting the country out of poverty was a task involving planning, physical and discipline.
"This government is committed and determined to take the country out of the current challenges therefore religious leaders must play their roles because no real progress will take place without their involvement.
"They have strong voice and they have responsibility to hold government accountable to ensure resources go round and meet the needs of the people," he said.
Osinbajo thanked UNFPA and other partners for organising the conference, saying that religious leaders needed to know the prevailing policy issues concerning the DD.
The Minister of Health, Prof. Isaac Adewole, had earlier described the conference as timely due to the commitment of the present government in achieving DD.
Adewole stated that among various interventions of the government towards a sustainable development in July, 2017, the Office of the Vice President had inaugurated a road map in harnessing the DD in the country.
He urged the religious leaders to support the change by playing vital roles in the achievement of DD.
Load more