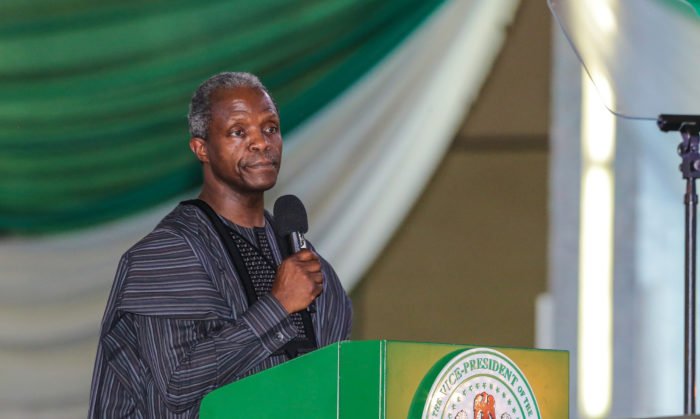 Vice President Yemi Osinbajo has called for home-grown technologies, innovations and creative ideas that would assist the country in solving its challenges.
Osinbajo made the call at the 10th convocation of the Redeemer's University in Ede, Osun.
The vice president said there was also the need for application of native intelligence to the interpretation of academic knowledge so as to make it relevant in solving societal problems.
Osinbajo was represented by Pastor Idowu Iluyomade, the acting Chairman of Redeemer's University Board of Trustees.
The vice president, who described the graduating students as the generation of hope for the country, urged them to take up the task of solution providers.
"The world today is technology-driven. Agriculture, healthcare cum medical sciences, among others are being controlled by the nations of superior technological experts.
"And being technological savvy, your generation is the only hope we have,'' Osinbajo told the graduating students.
In his remarks, Prof. Debo Adeyewa, the Vice Chancellor of the university, called on government at all levels to evolve a blueprint on adequate funding of education in the country.
Adeyewa said such blueprint would help to secure the future of the present generation and those yet unborn.
He said that adequate investment in education would guarantee a strong and bright future for the country.
"Investment in education should be a collaborative effort between government and other stakeholders, but dynamically and passionately driven by the government as the overall key stakeholder that is critically accountable to the current and future for the country.
"Government should, therefore, take a bold, constructive and non-partisan view of the current state of education with a view to revitalise the sector for the common good of the entire country,'' he said.
Adeyewa also said 27 of the 423 graduating students made first class honours.
He said 160 were in the Second Class Upper Division while 179 had Second Class Lower Division.
Another 57 had third class while six had pass degree.
Adeyewa added that the institution turned out three awardees with postgraduate diploma, 42 Msc and MBA degrees while two had PHDs.
He urged the graduating students to be good ambassadors of the university.
The Chancellor of the university, retired Gen. Theophilus Danjuma, urged the graduating students not to see the convocation as a mark of final exit from the institution.
He said they should rather see it as an opportunity to continue to support the development of the institution.

Load more