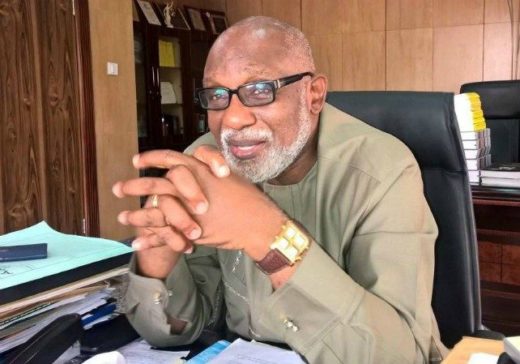 Gov. Oluwarotimi Akeredolu of Ondo State on Friday appealed to Central Bank of Nigeria (CBN) to extend intervention funds to cash crop farmers.
Akeredolu made the call at the inauguration of Bambi Farms, a factory that produces vegetable oil from palm kernel, at Okeigbo in Odigbo/Okeigbo Local Government Area of the state.
The governor said that if the Federal Government could extend the funds to the sub-sector and fund it well, Nigeria would earn reasonable foreign exchange.
Akeredolu pledged that the state government would support the factory.
According to him, the factory will create jobs for the unemployed and serve as available market for farmers in the area, hereby generating income.
"We want to look at the usefulness of this industry; It needs the support of all because it would grow in no time.
"From records available to me, it can produce 120 tonnes of soya beans and palm kernel oil per day."
He added that his administration had revived the moribund Okitipupa Oil Mill, saying that the private sector would be engaged in its sustenance.
Earlier, Mr Ade Ayoola, the Chairman of Bambi Farms, said that he planned to increase the capacity of the factory.
"Our dream is big and it is only God that can achieve it for us.
"In the next few years, we hope to have filled the land with oil mills, refinery; we are targetting 1,000 workers per shift.
"We cannot achieve this without the support of government because our desire is to change the narrative."
He, therefore, thanked Mr Akin Olootu, the Special Adviser on Agriculture and Agri-Business to the governor, for his assistance.
Also speaking, the royal father of the day, Oba Enitan Ogunwusi, Ooni of Ife, thanked the state government for its immense support toward the realisation of the factory.
He applauded the chairman for locating the factory in his hometown and appealed to other indigenes of the state to always remember their source for development.
Oba Victor Kiladejo, the Osemawe of Ondo Kingdom, congratulated the state governor, noting that he had passionate disposition toward projects benefitting the state.
The monarch also thanked Ayoola, saying it was a clarion call to others to invest in human value projects, promising him that he would be of help within his capacity.
Archbishop Gabriel Akinbiyi of the Anglican Church, Ondo Province and Alhaji Salaudeen Adesanmi, said they were happy that indigenes of the town for taking the necessary measures to develop it.