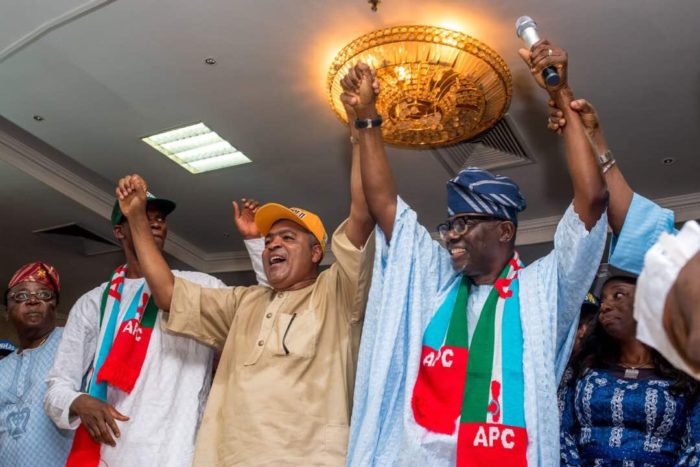 A governorship aspirant of the All Progressives Congress (APC) in Lagos, Mr Jide Sanwo-Olu on Sunday said he had a strong conviction that God had prepared him to be the next governor of the state.
Sanwo-Olu made the statement at Lagos City Hall while speaking at the formal launch of his governorship bid.
Members of the National Assembly , council chairmen and other chieftains were at the declaration. Sen.Gbenga Ashafa, former minister, Mr Ademola Seriki; a federal lawmaker, Mr Rotimi Agunsoye were among those present.
It was a carnival atmosphere at the well-attended declaration as party members danced and interrupted Sanwo-Olu's speech with the chants of "incoming, incoming!"
Sanwo-Olu said he believed God was moulding him to become the next governor of Lagos by making it possible to have an understanding of government through series of private and public service responsibilities.
"When I look at my experience in public service,I realised that God has prepared me for this moment. I believe that my contribution to the public service made it possible to be appointed as acting Commissioner for Economic Planning ,then Commissioner for Commerce and Industry and later Commissioner for Establishment and Training.
"My public service career has crowned the glorious achievements of my journey to the private sector where I had worked in the financial industry," he said.
He said his decision to contest the Lagos governorship was out of the need to sustain the vision of the past great leaders of the state.
Sanwo-Olu praised the achievements of Brig. Mobolaji Johnson, Asiwaju Bola Tinubu and Mr Babatunde Fashola, saying their strides as past governors contributed to the prosperity of Lagos.
He said he would sustain the great legacies and further reposition the state if elected as governor.
"If elected as the next governor, I shall immediately embark on full restoration of the glory of the state and make the people the cornerstone of government.
"I will restore the environment that has become the source of serious anxiety to Lagosians. I will relieve residents of Lagos State of the persistent gridlocks and hiccups that has made life nasty and brutish for all of us.
"Our government focal point shall be to provide the greatest good for the greatest number of people in Lagos State.
"I have invited all of you here to join me in this journey to take Lagos to new dimension by transforming the manifesto of our party to the programme of action. I am sending a clarion call to all our members that there is a lot to be done to achieve a Lagos of our dream. And I present myself as a capable and competent and tested hands to make Lagos greater," he said.
Sanwo-Olu promised to carry party members along and stick to the ideology of the APC if elected.
He urged other residents to believe in his aspiration to take the state to greater heights.