The new All Progressives Congress (APC) Chairman, Adams Oshiomhole, comes into the saddle at a time when the party is in crises. This was why TheNEWS team, made up of Ademola Adegbamigbe, Ayorinde Oluokun and photo journalist, Femi Ipaye, went after the APC boss. For over one hour in his Abuja office, Oshiomhole fielded questions on his style, defections, Bukola Saraki, reconciliations, Ekiti and Osun governorship elections, 2019 and other burning national issues
Q: Congratulations on your emergence as the chairman of the All Progressives Congress, APC, at a very dramatic period in Nigeria's history. How have you been coping with all the 'political' drama which has been happening at a dizzying pace since your appointment?
I think you should have completed the two parts – to congratulate is one part, the other side is to commiserate. It is clearly a big honour to be elected unanimously by all shades of opinion within the All Progressives Congress as the national governing party controlling, as of that time, 24 state governments. And for me, when you consider where I am coming from – having been President of Nigeria Labour Congress which is clearly an organization that is devoted to protecting and advancing the interests of the underclass, to move from there to become a state governor, and then, from there to becoming the chairman of the governing party which cannot be said to be a working class party in the true essence of the word, is a whole life story. I am humbled by the experience, the trust that people repose in my person, including people I thought I have offended over the years.
You should know that I led a protest against the Senate and members of the House of Representatives over furniture allowance and that protest was very massive – the parliament was shaken to its foundation. I argued that we must make sure that having fought so hard to get democracy, we must make sure that those we elected on that democratic platform must not derail. But those who have to vote for me to become chairman include those senators, because our constitution says "serving and former senators." The same thing goes for House of Representatives. And that just shows that people recognized the difference between what you have to do to protect the interest of the class that you represent and that it is nothing personal. So, it has been for me a very humbling experience. My background has also helped me to understand the complexity of the country and also equipped me with the things I needed to deal with the challenges arising from the office. So, everything considered, I am humbled, to God be the glory.
You were elected into 'crises' so to say and the biggest of the crises will seem to be in the National Assembly, especially, the Senate where the situation now is that of the PDP which is still the minority party presiding over the majority party at least as at now due to the recent gale of defections. You've been very vocal that the APC will not allow that situation, but how are you going to solve this problem now?
I think it is correct to say I came in at the peak of the crises within the APC. And that crisis was deepened by the way the previous leadership handled the congresses – in a way that completely subverted basic democratic principles in many cases. And that complicated the issues before I assumed office. I have told people that one is like a child born during the war and if you survive the war, you can only be stronger. And somehow, my life has been like that. I went into the union work when the local unions weren't doing much and the workers had to revolt. That was how I got into my first union job. I got into NLC after the military government had proscribed it, taken it over and appointed a sole administrator that ran down completely the entire idea of a working class movement. I took over NLC from a military administrator and within time, we turned NLC into what I called a 'fighting machine.' The Nigerian people are the best judge on my stewardship at the NLC. There is a sense in which when you get into a job at the most difficult moment and you survived it, obviously you can get on cruise control. So, I can say that the worse is over for our party.
Thank God, I am one of the founding fathers of our party – I was one of the state governors then on the platform of ACN who joined one governor from CPC, few other governors from ANPP and one governor from APGA to form the APC before Senator Bukola Saraki and about four or so PDP governors then decamped to also join APC. So, I am very clear about what our mission was. I'm very clear on what our mission is and I am very clear on what the primary purpose of the All Progressives Congress is. To that extent, I don't need to be tutored to understand the reasons for the formation of APC. And because I know that we consciously choose to be progressives and the party was supposed to be open only to all those who are progressives, I knew that it was only a matter of time before the internal contradictions will manifest.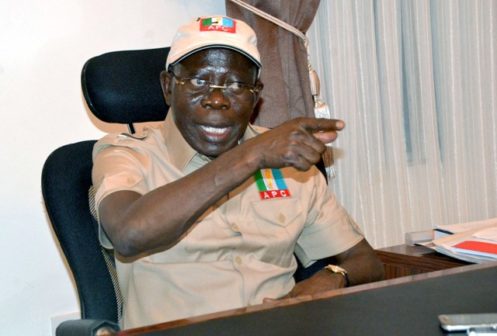 When I declared my intention to contest for the chairmanship of APC, what is happening now, I predicted it. I said it is hoped that one day, we would organize the party in a way that it cannot be a platform for extreme right – the most conservative, reactionary or even fascist in the far right, hobnobbing on the same platform with the most progressive or even socialist, if you like, or even communist on the same party platform. It just wouldn't work for a long time because the core value of the people that drives the system simply doesn't coincide. So, those who are not progressives, over time, would just have to drop out because they can't cope with the internal dynamics and I think that is what has happened. Some said because of the nature of the merger, rather than enjoy what could have been an organic or chemical reaction, what we witnessed was a physical reaction and the non-progressive elements within the system now found themselves falling apart.
And if you look at some of the key leaders who have dropped on the wayside and where they choose to return to, I believe it is quite revealing and it confirmed this theory. You look at the person who led the group – the coordinator of those who defected on the floor of the Senate, look at his background, these are people who are born with not just silver, but platinum spoon and so, they have never known hard work and they have never achieved anything through hard work. Their business of banking doesn't have to survive for them to remain afloat, even though depositors of their banks may not have recovered and you can go on and on. People, who have lived that sort of life truly by the simplest, liberal definition of the word 'progressive', simply can't fit in. There could be several other examples, but let's stop there.
Now, where they choose to return to is also important because if you play back the statement made by this people about this time three years ago when they were leaving PDP, they used all sorts of names to describe the party. And since they were inside PDP, we believed them. They called PDP "a rogue party, self-centered, unpatriotic, incompetent, lacking internal democracy, subjecting the country to wallowing in unmitigated corruption" and stuff like that. There is one from Adamawa who said PDP is 'irredeemable' – they pronounced with such magisterial finality, just three years ago. If they say all those bad things about the party and they cannot fit into APC, they have the option to find a new place where they can also associate on the basis of a shared value. But they realized that their value is more in tune with this same party that they have used such unkind words to describe. So, their return to PDP confirmed that any system that is not based on 'share the money' they can't fit into it. And so, they can go back only to a party that guarantees that. And so, it will also be of interest to the Nigerian people- this debate that we read about some say 'we have to change the name of PDP because we have been notorious – the Nigerian people know that we are a notorious lot' and within them, some are saying, if we are notorious, so be it. People know that we are notorious, we cannot change.' Some say 'we may not change our notoriety, but we can wear new mask', the way a double star master will do in those days – they will drop their actual names, passport, relocate to another country and do change of records and wear a completely new face. But that was before the era of digital fingerprint and eye detector.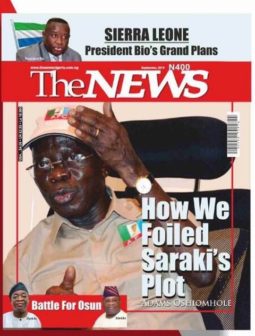 The fact that they chose to return to PDP shows that they are incurably committed that the resources of Nigeria is their birthright to share for themselves and nobody else. I think that settles that. But we are also beginning to see that while they are leaving, some other people who have progressive inclinations are also jumping into the APC, saying we cannot cohabitate if these characters are returning to PDP. If we ever had hope that PDP can change itself, the return of these characters can only deepen the very corrosive, corrupt nature of PDP. And recently, I went to receive a senator from PDP into the fold of APC in Ebonyi State. I also went to receive the leader of the PDP in the Senate into the APC and he promptly resigned his position as leader and joined the APC. And there are still quite a few who understand that once these reactionary, conservative forces are back, obviously, they do not have business remaining in the PDP. I said so in my speech that this is going to happen. And it is my hope that after this shake up, you are going to see clearly, the difference between PDP, APC and indeed, any other political party.
I also mentioned that it doesn't excite me when we described a political party as the largest in Africa or the largest in the universe. I would rather talk of a political party that is smart, well organized, people oriented, people driven, mass based, all inclusive and pro-people. That's what I would like to celebrate. That coincides with my own background, my own values that government and institutions should work for the people and not for those who operate the system.
Read more here:
http://thenewsnigeria.com.ng/2018/09/how-we-foiled-sarakis-plot-adams-oshiomhole/ http://thenewsnigeria.com.ng/2018/09/how-we-foiled-sarakis-plot-adams-oshiomhole/