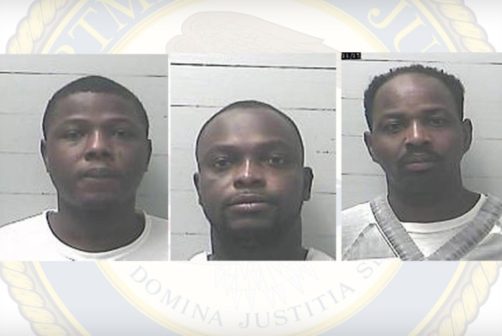 A Manhattan Federal Court in New York has sentenced Mr Onyekachi Emmanuel Opara to five years in prison for participating in Business Email Compromise Scams.
According to the Federal Bureau of Investigation (FBI), Geoffrey S. Berman, the United States Attorney for the Southern District of New York, announced that Opara was sentenced to 60 months in prison.
FBI said the sentence was based upon Opara's participation in fraudulent business email compromise scams that targeted thousands of victims in the United States and around the world.
"Through these scams, Opara and his co-conspirators attempted to defraud victims of over $25 million.
"On April 11, 2018, Opara pleaded guilty to conspiracy to commit wire fraud before U.S. District Judge Paul A. Crotty, who imposed the sentence," FBI said.
Berman said: "From halfway around the world, Onyekachi Emmanuel Opara ran a global email scam business that victimized thousands of people out of millions of dollars.
"The global reach of our Office and the FBI ensured that Opara will serve time in the United States for his crimes."
The FBI said Opara pleaded guilty to the allegations in the indictment and statements made at the plea and sentencing proceedings.
"Between 2014 and 2016, Opara and his co-defendant, David Chukwuneke Adindu ("Adindu"), participated in multiple business email compromise ("BEC") scams that targeted thousands of victims around the world, including in the United States, the United Kingdom, Australia, Switzerland, Sweden, New Zealand, and Singapore."
The FBI said Opara sent bogus emails to employees of the victim companies directing that funds be transferred to specified bank accounts.
The bureau added that the emails purported to be from supervisors at those companies or from third party vendors with whom the companies did business.
In reality, however, the emails were either sent from email accounts with domain names very similar to those of the companies and vendors, or the metadata for the emails was modified to make it appear as if the emails had been sent from legitimate email addresses.
After victims transferred the funds as directed in the bogus emails, the funds were quickly withdrawn or transferred to other bank accounts controlled by scheme participants.
In total, the BEC scam participants attempted to steal more than $25 million from victims around the world, the FBI said.
"In furtherance of the BEC scams, OPARA created accounts on dating websites and entered into online romantic relationships with individuals in the United States by portraying himself as a young attractive woman named "Barbara." "Barbara" would then instruct these individuals in the United States to send their money overseas and/or to receive money from BEC scams and forward the proceeds to other scheme participants located overseas.
"For example, one victim with whom OPARA struck up a romantic relationship sent over $600,000 of the victim's own money to bank accounts controlled by scheme participants at Opara's direction.
"Opara also attempted to recruit at least 14 other individuals via dating websites to receive funds from BEC scams into their bank accounts and then transfer the proceeds to overseas bank accounts," FBI said.
Opara was arrested on Dec. 22, 2016, in Johannesburg, and was extradited to the Southern District of New York on Jan. 26, 2018, according to the bureau.
"In addition to the prison term, Opara, 30, of Lagos, Nigeria, was sentenced to two years of supervised release and was ordered to pay $2.5 million in restitution.
"On June 20, 2017, Adindu pleaded guilty to one count of conspiracy to commit wire fraud and one count of conspiracy to commit identity theft.
"On December 14, 2017, Judge Crotty sentenced Adindu to 41 months in prison and ordered him to pay approximately $1.4 million in restitution," FBI said.
Berman praised the investigative work of the FBI and also thanked Oath's E-Crime Investigations Team, the National Prosecuting Authority for South Africa, the South African Police Service, and the United States Marshals Service.
Berman noted that the investigation was ongoing and the case was being handled by the Office's Complex Frauds and Cybercrime Unit, while Assistant United States Attorneys Andrew K. Chan and Daniel Loss are in charge of the prosecution.