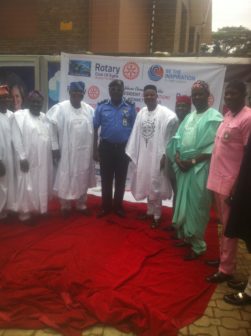 Dedeigbo Ayodeji
Rotary Club of Egbe, Lagos Nigeria has installed Rotarian Kenneth Nwoji as the 16th president of the club.
Four new members were also inducted into the club during the ceremony which took place at 8, Ladoke Akintola, Street, GRA, Ikeja, Lagos State Southwest Nigeria .
In his speech, after his installation, Nwoji described Rotary Club as a service club whose activities are centered on humanitarian services to the society.
"I must say that Rotary Club of Egbe has been performing excellently well in this regard and our presence is being felt by our host community and beyond.
"Our gathering here today is not just about celebrating the president and the board members; rather it is a forum to reawaken our consciousness to the responsibilities we all owe the vulnerable people in our communities. Our experience in Rotary has shown that if the privilege few are sensitive to the plight of the less privileged ones in the society, the world would be an interesting abode for all.
"Over the years, we have executed impactful projects in the areas of health, sanitation, disease prevention, education and conflict resolution. Our focus this year would be on the following: Disease prevention: We will be renovating eight blocks of toilets at Ore-Ore primary school , Liasu Road, Egbe. We will be donating hospital equipment with drugs and treated mosquito nets to Ikotun Heath Centre.
•Educational Sector: provision of chairs, and desks to Community Primary School, Hotel Bus Stop, Egbe. And there will also be renovation and Provision of science laboratory equipment for Ikotun Technical College.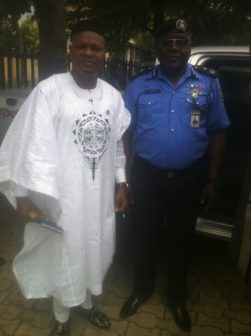 •Economic empowerment: Soft loans to widows who are petty traders etc.
•Water and Sanitation : We will be providing borehole and water treatment plant for Ijagemo Community in Ijegun Community area of Lagos State," he stated.
He urged members and invited guests to support these projects passionately through generous donations.
"These tasks ahead of us are enormous but with your support, we will put smile on the faces of those innocent children. And to my fellow Rotarians, Rotary service transform lives and communities, but to achieve more of these transformational services, we need to think differently about our roles in Rotary and also the roles of Rotary in the world.
"Therefore I urge every Rotarian to put more emphasis on service to humanity as this is a noble call which I personally see as divine call," he added.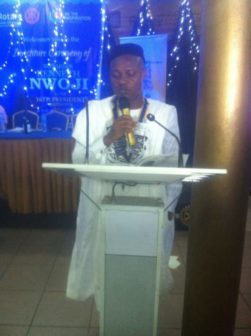 The newly inducted members are: Joseph Issa, Emeka Alex Iloh, Femi Abdul and Olugbodi Oyewale.
Rotarian Nwoji appealed to fellow Rotarians to join him in inspiring positive changes in the club, community and the organization.
"I'm very grateful and delighted to the past presidents and other members of Rotary Club of Egbe for their selfless service to humanity.
"I equally appreciate our special guests, guest speaker and other guests. We are honored to have you. I thank you all," he concluded.