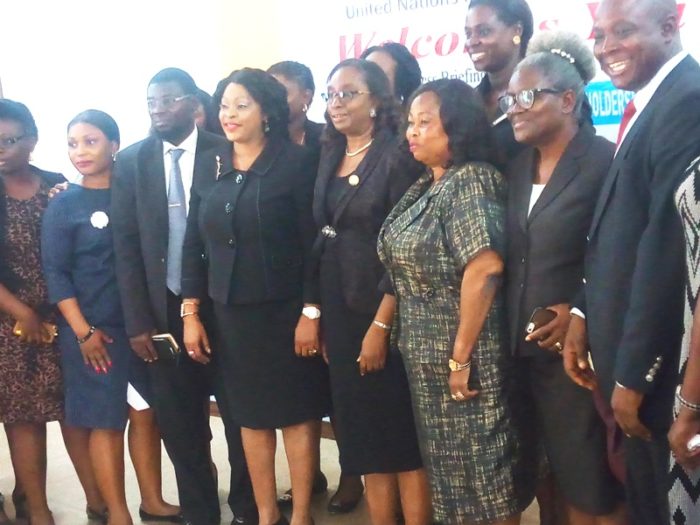 By Kazeem Ugbodaga
The Lagos State Citizens Mediation Centre, CMC, said it has  resolved 18, 982 dispute matters in the last eight months.
Commissioner for Justice, Adeniji Kazeem disclosed this on Wednesday at a news conference to commemorate the 2018 United Nations International Day of Peace in Ikeja, Lagos, Southwest Nigeria.
Kazeem, whose speech was read by the Permanent Secretary and Solicitor General, Ministry of Justice, Funlola Odunlami, said in brokering peace as it related to civil disputes among residents of Lagos, between January and August, 2018, the CMC had successfully registered a total number of 33, 670 matters.
He said out of this number, a total of 18, 982 matters were mediated and resolved while 4, 701 matters were adjourned and referred to other government agencies for further processing, adding that the total amount of money recovered for parties through mediation totals to N829, 110, 220.
However,  Kazeem, said this year's event coincided with the 70th anniversary of the establishment of the UN which aimed to highlight the importance of all segments of society to work together to strive for peace and respect for Human Rights.
He stated that the United Nations had been able to achieve its laudable programmes through the thousands of partnerships each year with governments, civil society, the private sector, faith-based groups and other non-governmental organizations.
"In 1999, the Lagos State Government in line with its constituted functions of ensuring peace within the State; established the Citizens' Mediation Centre to provide access to justice to the indigent residents of the State.
The Citizens' Mediation Centre (CMC) is an initiative of the Lagos State Government under the Ministry of Justice with a Mission to serve as a non-adversarial dispute resolution centre through the use of mediation mechanism in dispensing justice fairly, speedily and without discrimination fear or favour between disputing residents of the State.
"The Core pillars of mediation include preservation of existing and maintenance of the future relationship of disputing parties; confidentiality, neutrality and flexibility of process. The Citizens' Mediation Centre has since 2014 commenced collaborations with the United Nations Information Office to mark the International Day of Peace as an annual event to propagate the ethos of peaceful co-existence among residents in Lagos State. Thereby educating and sensitizing the public on the need for peaceful co-existence and respect for human dignity to engender socio-economic growth," he said.
According to the commissioner, the existence of peace in any society was germane to democracy and a panacea to socio-economic development and growth, saying that peace was what the world needed at this time to promote bilateral partnerships, among nations.
He said the sustenance of Human Rights would eradicate acrimony and entrench self love and mutual respect among citizens which in the end contributed to the global peace.
Kazeem added that government recognised the fact that the State, as the commercial nerve centre of the sub-Saharan Africa where all races converged for various purposes such as business, hospitality, tourism among others; had put in place mechanisms that would foster development and promote economic activities in the State by instituting agencies that would provide free service modeled at protecting the fundamental rights of its residents.
"Government Ministries, Departments and Agencies have been created and funded by the Lagos state government to attend to matters relating to Land Grabbers, Free legal Services, Youth Empowerment, Wealth creation, Special Task Force, Provision of Police Vehicles/logistics for security, creation of DNA and Forensic laboratory, among others. All these actions are geared toward enhancing peace in the Lagos State," he said.
Some activities lined up to commemorate the programme were walk for peace; walk for peace and free legal clinic at Alimosho Local Government Council and the commemoration of UN International Day of Peace and Stakeholders' Conference.