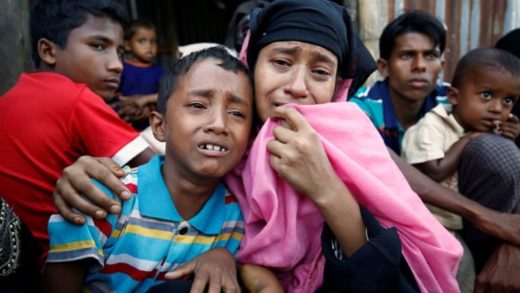 The UN must urgently collect evidence of atrocities in Myanmar after domestic commissions have proved unable to provide accountability, Human Rights Watch said on Wednesday.
A fact-finding report delivered to the UN Human Rights Council on Tuesday detailed at least 10,000 people were killed and more than 37,000 homes destroyed after Myanmar's security forces launched an attack on the Rohingya minority in August 2017.
The UN should act now to preserve evidence, said Brad Adams, Asia Director at Human Rights Watch.
"The council should not wait for the country's latest commission, which seems designed to dilute and deflect international calls for action," he added.
In August, government spokesperson, Zaw Htay, said a government "Independent Commission of Enquiry'' had been formed to investigate rights abuses and "respond to false allegations made by the UN agencies and other international communities.''
The commission, launched in July, was widely denounced by observers for having members with dubious human rights records.
Eight government commissions launched to tackle violence in Rakhine State since 2012 had failed to bring about accountability for serious crimes against minority Rohingya, a Human Rights Watch report said.
Rohingya, an ethnic minority group in Buddhist-majority Myanmar, were stripped of citizenship in 1982 and have been long subject to persecution in Rakhine State.
Labelled 'Bengali' by the government and much of the Myanmar population to infer that they are interlopers from Bangladesh, Rohingya is denied access to health care, education and freedom of movement.

Load more