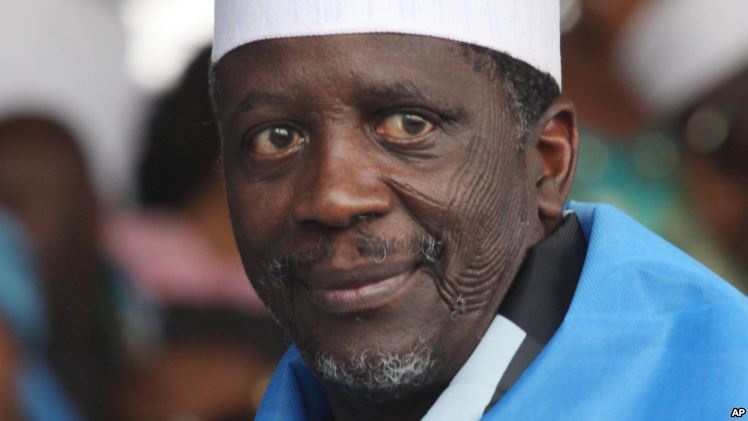 A presidential aspirant of the Peoples Democratic Party (PDP), Alhaji Attahiru Bafarawa, on Wednesday said the he was seeking to be president not for personal interests, but to serve the nation.
Bafarawa, a former governor of Sokoto State, made the statement while addressing party members in Lagos.
Bafarawa's visit to the party secretariat was in continuation of his nationwide tour of state chapters to seek support for his aspiration.
He said the nation needed somebody with a good understanding of governance and track record of performance to address the country's challenges.
The former governor said the All Progressives Congress (APC) had failed to deliver of its promises and a change was needed to salvage the country.
"I am coming for damage control; I am coming to right so many things that are wrong with governance in the country.
"I am contesting not for personal interests but to genuinely serve the country and put it on the path of prosperity.
"The APC government has failed to deliver on its promises: it is time to kick them out and put a responsible government in place," he said.
The aspirant said his time as governor of Sokoto was the golden era in the state in terms of democratic dividends delivered.
Bafarawa said he did not only uplift the state economically, but also built human capacities both in the health and the education sectors.
He said it was on record that he never borrowed to run the state and even left N13billion in the coffers of the state when leaving.
Bafarawa said Nigerians could trust him to run the country efficiently if elected.
He appealed to Nigerians to beware of politicians who decieve with fake promises, as they would abandon them at the end of the day.
The former governor urged party delegates in the state to vote for him at the convention , promising not to abandon the people if elected.
He assured them that the party's presidential primary would be rancour-free, as all aspirants had agreed to unite after the primary.
"I don't think there would be any problem after the primary. We (aspirants) have all agreed to unite and work with whoever emerges," he said.
On the allegation by Gov. Nyesom Wike of Rivers State that some aspirants are being sponsored by APC in PDP, he said he did not have a definite answer to the claim.
He, however, urged Wike to expose the moles among the aspirants in the interest of the party.
Responding, Secretary of PDP in the state, Prince Muiz Dosunmu, thanked Bafarawa and his team for the visit.
He said the chapter was in support of his agenda to move the country forward.