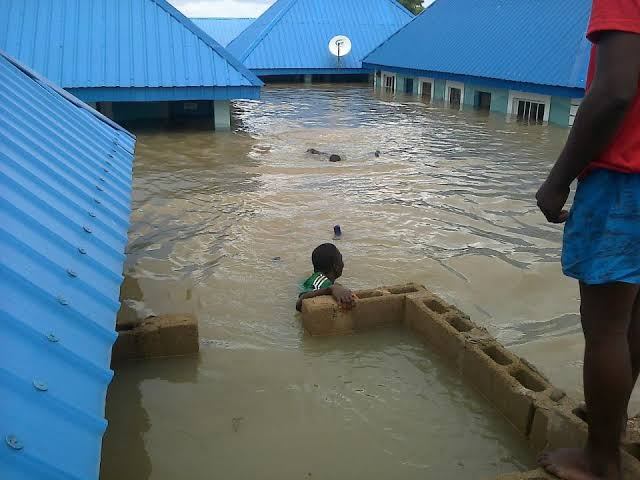 The United Kingdom chapter of the All Progressives Congress (APC) says it is ready to give some form of assistance to victims of recent flooding that occurred in some states of the federation.
Mr Jacob Ogunseye, the chapter's acting Publicity Secretary made this known in a statement made available to the News Agency of Nigeria (NAN) on Friday in Abuja.
According to him, the decision to offer help to the flood victims was taken at a strategic meeting of the chapter.
He condoled with President Muhammadu Buhari and the entire nation over the loss of lives and property following the flooding caused by rains that resulted to Rivers Niger and Benue to overflow.
He also commended President Buhari for declaring a state of emergency in affected states by releasing #3 billion naira to help victims, noting that the vast areas affected were farmlands and residential communities.
Niger, Kogi, Anambra, and Delta states had been declared as 'National Disasters' by the National Emergency Management Agency (NEMA).
Taraba Adamawa, Kebbi, Edo, Rivers, Benue, Bayelsa and Kwara states were also being monitored carefully by NEMA.
The statement quoted Mr Ade Omole, the chapter's leader as saying "we will be ready to deploy an up-to-date technology hardware and software in preventing and controlling floods in Nigeria if given the opportunity.
"We will do all within our abilities to ensure that adequate technology is deployed to forewarn likely or future occurrence of down pour in these areas to ensure safety of lives of property.
Omole noted that while homes had been destroyed and farmlands washed away, there was need to cooperate with governments to address the situation, adding that these were indeed trying periods.
He, therefore, called on well meaning Nigerians and organisations across the country and the world to rise up at this challenging moment to help the flood victims.
"Our show of unity is now; we should all set aside our political affiliation and come together as a united country to ensure that victims are not abandoned to suffer the effect of the current disaster.
"We should help in any way in ensuring that affected persons get needed assistance, especially medical, housing and clean water, Omole said.
The Ecological Fund Office had, however, embarked on the inauguration of about 70 ecological intervention projects in flood prone communities across the country`s six geo-political zones.
The interventions by the Ecological Fund Office in affected communities was to solve problems that had given concern to citizens whose means of livelihood and properties were being threatened by desertification, flooding and disastrous gully erosion.
Vice President Yeti Osinbajo's had since visited some affected flood communities in Anambra and Delta states to sympathise with victims.

Load more