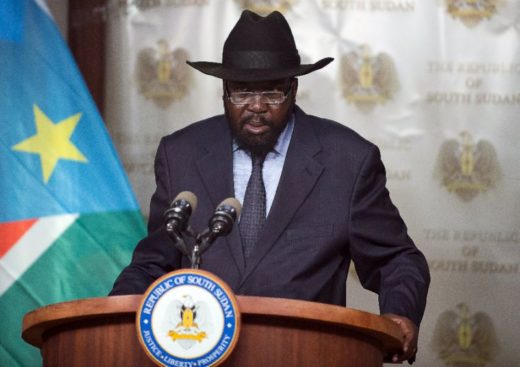 South Sudan will harness electricity power connection from neighbouring countries and build additional hydro power dams to boost its development and growth.
Dhieu Mathok, the Minister of Dams and Electricity, said on Thursday that the government would implement deals on power extension previously signed with Ethiopia and Uganda.
Mathok said that besides the country would work with China to fund the construction of the 1,080-megawatt Fula hydro dam located at Nimule border town with Uganda.
"We are prioritising electricity and roads. We are currently erecting and rehabilitating electricity network in Juba and the surrounding states.
"The medium term goal is to connect South Sudan to the region. We are extending electricity from Sudan to Malakal," he said in Juba.
He said that President Salva Kiir's recent visit to Beijing during the Forum on China Africa Cooperation (FOCAC) summit resulted into the two countries signing an agreement on developing the nascent energy sector in the country.
He said that the power had been disrupted for over four years of conflict in the country.
"We are going to prepare feasibility study and we are going to approach China to see how we can start work on the Fula dam," he said.
The Fula project was supposed to have taken off with support from Norway under Public-private partnership but stalled due to outbreak of conflict in late 2013.
In 2017, South Sudan and Ethiopia signed a Memorandum of Understanding (MoU) which will see Addis Ababa extend electricity to the Eastern parts of South Sudan.
In October 2017, South Sudan reached agreement with neighbouring Uganda to extend 15 KV of electricity to the three border areas of Kaya, Nimule and Kajo Keji.
South Sudan is largely a generator-driven economy with continued electricity blackout in the wake of the collapse of the generator power plant operated by the South Sudan Electricity Corporation (SSEC) in 2013.
Mathok also said that the ongoing work on rehabilitating and upgrading the power distribution system in Juba by Power China Company will end by November and will extend to the regions.
The Juba Power Distribution System Rehabilitation and Expansion Project was funded by the African Development Bank (AfDB), which has extended a grant totaling 33 million dollars to help South Sudan expand access to cleaner energy sources.