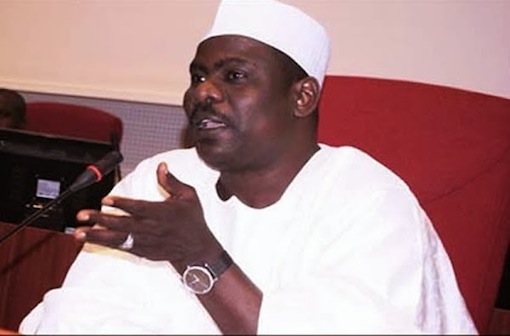 Sen. Ali Ndume (APC-Borno) has commended the Nigerian military for concerted effort at eliminating Boko Haram.
Ndume gave the commendation when he appeared on the News Agency of Nigeria (NAN) flagship programme in Abuja.
He said the move by the Chief of Army Staff, Lt.-Gen. Tukur Buratai, in ensuring collaboration with the Nigerian Airforce and other agencies had helped a great deal.
He added that the relocation of the operational headquarters of the military was a major factor in the defeat of Boko Haram.
However, he called on them to concentrate on three black spots of "the deep Sambisa forest, the Lake Chad fringes and the Mandara Mountains.
He said the sect, which was still active in those areas for obvious reasons, must be brought to its knees.
"The resurfacing of the sect is more in Northern Borno. These are the fringes of Lake Chad.
"I am suspecting that because of the money they got from the ransome allegedly paid, their proximity to international terrorist organisation, Nigeria bordering Mali and Niger and the open, vast and porous borders, they are buying and transporting light arms.
"Also, they are getting money from the businesses around Lake Chad that they have taken over. They are now the ones involved in the cattle business and all that.
"Those are the areas they get money from. With this money they are able to fund their operations," he said.
On concerns that the sect had not been completely eliminated, the lawmaker said fighting insurgency was different from fighting conventional war.
He said, "we have been fighting insurgency in the North East which is different from the conventional war where you know you have soldiers belonging to a particular group that you can identify.
"Besides, insurgency is not happening only in Nigeria. It is happening in Afghanistan, Syria and all that. Like the case of Afghanistan, the case has been going on for some years now.
"Insurgency is not conventional war and cannot be easily eliminated. Even in Afghanistan, insurgency has been technically defeated but not completely eliminated.
"So in the Nigerian case it is the same. Boko Haram has been technically defeated.
"As someone from the North East and particularly from the epicentre of Boko Haram, I can tell you that this government has succeeded in defeating Boko Haram although has not eliminated it.
"What we are working on now is to eliminate it.
"Unfortunately the sect, especially those that are from the purported Shekau and that of Mamanur in the Lake Chad fringes, have something they are holding on to that is very sensitive and important to the Nigerian government.
"We are suspecting that the remaining Chibok girls, numbering about a hundred are still with the Shekau's faction.
"Mamanur's side was responsible for the adoption of the Dapchi girls and they are still holding on to Leah Sharibu."
Ndume, however, expressed optimism that the war would soon come to an end.