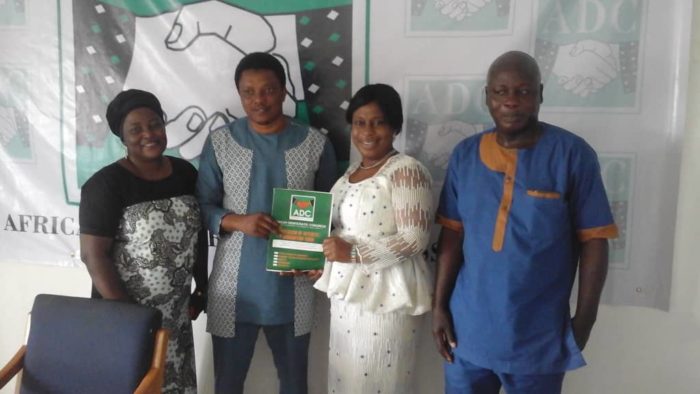 By Daniels Ekugo
A member of the African Democratic Congress, ADC, Prince Obadeyi Omotayo, has promised to seek special infrastructural development status for Obafemi Owode Constituency in line with ADC governorship aspirant, Gboyega Nasir Isiaka, GNI's agenda on border towns development if elected to represent them.
He made the promise while submitting his expression of interest and nomination form for Ogun State House of Assembly, Obafemi Owode Constituency seat in next year's general elections at the ADC secretariat in Abeokuta at the weekend.
"Though our primary responsibility is to give adequate representation to our people and better interaction as well as carry out our appropriation and oversight of the same funds appropriated for the executive, but being an indigene and having spent most of my life in Mowe, I can conclude that towns like Arepo, Asese, Owode, Pakuro, Olowotedo, Mowe, Orunkole, Ofada, Arigbabowo, Obafe, Adesan, Loburo, Alekun, Ayanmo, Kajola, among others deserve special developmental status as these towns can improve the fortune of the state if properly harnessed which am very desirous of achieving if giving the mandate," he said.
The party's State Women Leader, Mrs Adegoke encouraged all aspirants to continue evangelizing the party's programmes to electorate, as ADC promised to provide a level playing field for all aspirants.