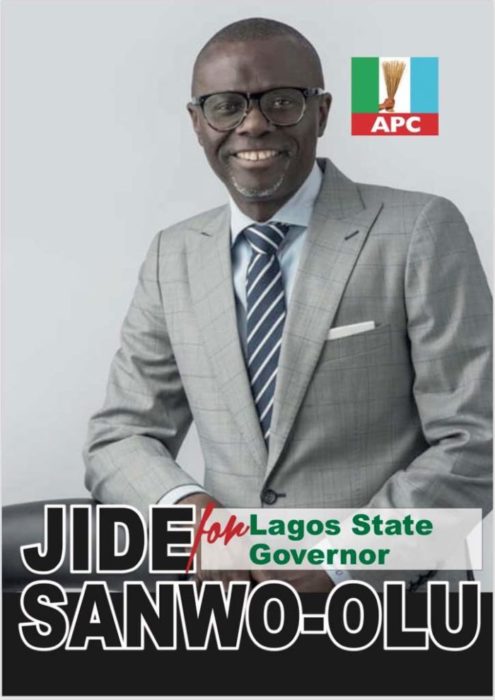 Vice Chairmen of all the 57 council areas in  Lagos State on Sunday endorsed the aspiration of Babajide Sanwo-Olu ahead of next weekend's governorship primary election in the state.
The vice- chairmen, under the aegis of Pillar 57 and the chaimanship of Princess Bolanle Bada, who is also vice-chairman, Ikosi-Isheri LCDA, gave this pledge at a parley attended by leaders of Mandate Group, including Cardinal James Odunmbaku, Alhaji Kaoli Olusanya, Alhaji Ganiyu Badmus, among others.
Tayo Ayinde, the Director-General of Babajide Olusola Sanwoolu Campaign Organisation (BOSCO) , was also in attendance.
The vice-chairmen, who spoke at the parley which took place at Water Crest Hotel, Ikeja, venue of the meeting, including Hon. Folashade Oba said they were resolved to align with the party leaders and elders in ensuring that come Saturday, Sanwoolu emerge the APC governorship candidate at the primary to be held in the state.
It would be recalled that local government chairmen across the state gave their endorsement on Saturday, while the Mandate group as well as others have since endorsed Sanwoolu, who is regarded as anointed candidate of the APC National Leader, Asiwaju Bola Ahmed Tinubu.
Sanwoolu will be contesting the primary against the incumbent, Mr Akinwunmi Ambode and another aspirant, Dr Femi Hamzat.
Bada decried the plight of majority of her colleagues under the present administration in the state, saying the situation had reached a level that they now had to resort to praying and fasting twice in a week for God to bring them another governor that would listen and bring them succour.
She said it has been difficult for them to access Governor Akinwunmi Ambode since he came into office, lamenting that most the council chairmen were now leaving from hands to mouth, while some them were now left with official cars that broke down at will.
Folashade Oba, a vice chairman assured that Sanwo-Olu should count on the support of Pillar 57, describing the group as dependable, reliable and trust-worthy.
"We are dependable, we are reliable and we are trust- worthy, you always can count on us. We agree that the party is supreme, we are going to where the party is going," he said.
Director General of BOSCO, Ayinde, while paying tribute to the APC governorship aspirant, said the campaign slogan is: "Igbega Ipinle Eko, Ajumose gbogbo ni."