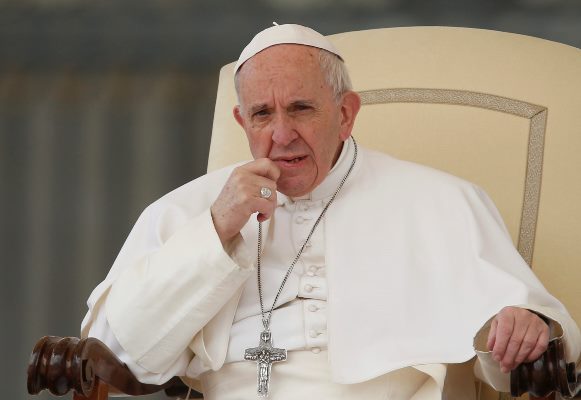 Pope Francis on Monday urged Latvians, who broke with the Soviet Union nearly 30 years ago, to cherish their hard-won freedom and to not forget the sacrifices of those who died for it.
Francis speaks during a meeting at the Presidential Palace in Riga, Latvia, during the second leg of his trip to the Baltic States on Sept. 24.
Francis is visiting Lithuania, Latvia and Estonia, three countries who are looking warily towards what they fear is a newly hostile Russia.
"You know all too well the price of that freedom, which you have had to win over and over again,''
Francis said in a speech to President Raimonds Vejonis and the diplomatic corps shortly after his arrival in the Latvian capital.
Francis and Latvian President Vejonis are scheduled to attend a welcoming ceremony at the Presidential Palace in Riga during the second leg of Francis' trip to the Baltic States.
All three countries initially won independence from imperial Russia 100 years ago, were annexed by the Soviet Union in 1940, occupied by the Nazis during World War Two and were then satellite republics of the Soviet Union until 1991.
Francis said their tragic history should remind Latvians of the importance of treasuring freedom and independence.
"If today we can celebrate, it is due to all those who blazed trails and opened a door to the future, bequeathed to you that same responsibility," he said aid before laying flowers at the Monument to Freedom in Riga.
The Nazis, who occupied Latvia during World War Two, killed some 70,000 of the country's Jews and later the Soviets deported some 60,000 people to Siberia.
Recent events in Russia, with which all three states share a land border, have brought on new nervousness.
All three are members of the European Union and NATO.
"The fates of the Baltic States in the 20th century are a living testimony to the fact that a divided Europe leads only to suffering,'' Vejonis told the pope.
As Russia annexed Crimea in 2014 and fears grew that the Baltics might be next on Moscow's list, defence spending was increased sharply and several thousand NATO soldiers were deployed.