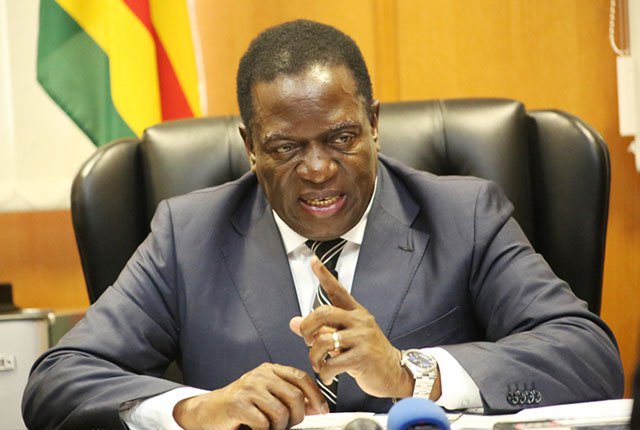 Zimbabwean President Emmerson Mnangagwa says he is happy with the gradual improvement of relations between Zimbabwe, Britain and other western countries.
Mnangagwa said that those western countries that sided with London when ties between the two countries soured over two decades ago.
Britain, Zimbabwe's former colonial power, became hostile when Zimbabwe expropriated land from whites for redistribution to the landless black majority.
The programme, meant to correct colonial land ownership imbalances, drew the ire of Britain, which then internationalised the issue resulting in the EU and the U.S. imposing economic sanctions on Harare.
Since November 2017, the new political dispensation in Zimbabwe has embarked on a re-engagement programme to restore relations with Britain and other Western countries.
Mnangagwa told a meeting on Sunday of Zimbabweans based in the U.S. that the land reform programme was a closed chapter, and that London now fully appreciated that position, state news agency New Ziana reported on Monday.
"We are now talking. We have escalated our relations from officials to ministerial level. Very soon, perhaps, it will go beyond ministerial level.
"We are where we are as a result of the decision we took on the land reform programme. Be clear, I am not regretting that we took back our land.
"The land reform is irrevocable. Fortunately, even the British now accept that the issue is dead. We are discussing with mutual respect to move forward,'' Mnangagwa was quoted as saying.
The president said that he would meet British Minister of State for Africa Harriett Baldwin on the margins of the 73rd UN General Assembly to further consolidate ties.
Zimbabwe, he added, had lived in isolation for too long hence the need to focus on improving relations with the global community.
"We cannot anymore live in the past nor do we desire to live in the past,'' he said.
Mnangagwa said that progress was being made toward the country attaining its vision of becoming a middle-income economy by 2030.
"At the time this dispensation came into office in November in 2017, the per capita income was around 900 dollars.
"But within eight months we have moved to 1,500 dollars per capita and we are saying that our goal is to reach 3,500 per capita by 2030 and by then it means we shall become an upper middle-income economy," he said.
Mnangagwa said the task to revive the economy is a process, which requires concerted efforts including from Zimbabweans living in the Diaspora.
"I have no doubt that you have gained a lot of international exposure.
"The good side of what happened is that we now have a body of skilled Zimbabweans residing outside and with our current thrust for modernising, industrialising, mechanising, reforming and growing our economy.
"We have to draw from this reservoir of skills from our people abroad," he said.