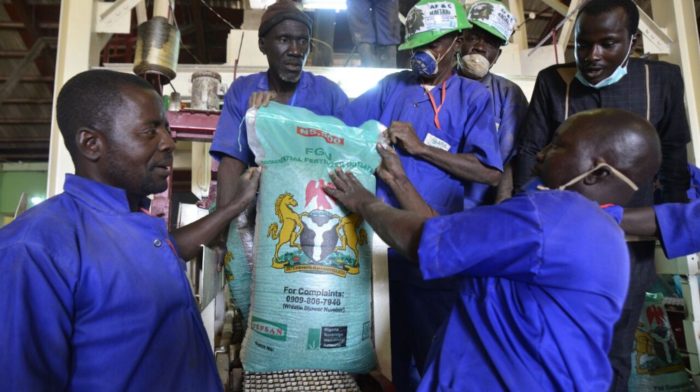 Fertiliser Producers and Suppliers Association of Nigeria (FEPSAN) says 18 fertiliser blending plants across the country have been revived under the Presidential Fertiliser Initiative (PFI) introduced by President Muhammadu Buhari's administration.
The President of FEPSAN, Mr Thomas Etuh, who said this in an interview with News Agency of Nigeria (NAN) in Abuja on Tuesday, stressed that the resuscitated plants were now operational.
He recalled that only six, out of the 32 fertiliser blending plants existing in the country, were functional at inception of the Buhari-administration in 2015.
"We then had six fertiliser plants working at 10 per cent capacity but with the introduction of PFI, we moved to 11 plants in the first phase and today, 18 out of the 32 plants are engaged in this programme.
"At the end of last year's season, we closed with 12 fertiliser blending plants because WACOT Limited, in collaboration with the Edo State Government, added one plant to the 11 we had in the first phase.
"About five plants are being evaluated to meet up the standards before we enlist them, and I can also tell you that because of this programme, we have five new fertiliser blending plants being set up in the country.
"We have one each in Zamfara, Ajaokuta in Kogi, Akwa-Ibom and Funtua in Katsina State, while the one in Kaduna is at the point of inauguration.
"The plants in Ajaokuta (Kogi) and Zamfara should come live by the end of the year, while that of Funtua in Katsina State might come up by first quarter of next year (2019).
"So, I think these new five plants should be up and running by the first quarter of next year,'' he added.
Etuh said that Nigeria would soon be reckoned with in area of fertiliser production, considering the amount of money that was invested in the industry in the last three years.
He added that Nigeria would soon be an exporter of NPK (Nitrogen, Phosphorus and Potassium) fertiliser.
"About 63 per cent of the raw materials are locally available in the country; the materials are produced by some companies.
"We have limestone granules with calcium produced by West African Fertiliser Company in Okpela; we have the Urea produced by INDORAMA and NOTORE in Onne, Rivers State.
"So, I know that in the next two to three years, Aliko Dangote's fertiliser plant will start production and other are also coming up. Currently, Nigeria is a net exporter of Urea-based fertiliser.
"With the Aliko plant coming on board and INDORAMA increasing to a second line, we will be producing about 7 million tonnes of fertiliser. About 70 per cent of the fertiliser would be for exports, while the remaining 30 per cent would be used within the country,'' he said.
Etuh, who is also a PFI committee member, said that FEPSAN was working hard to ensure that every farmer cluster had a blending plant to ease product transportation costs and facilitate a reduction in fertiliser prices.
He said that the fertiliser blending plants in Niger and Plateau were to service states in the North Central geopolitical zone, while the fertiliser plants in Lagos were to cater for states in the South West and South East zones, as well as Kwara which as in the North Central zone.
"The whole idea is to get people to build plants around a cluster so that it helps with cost of transportation to achieve that price target we are looking at," he added.
Load more