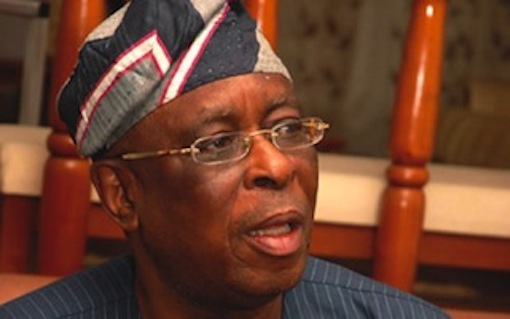 By Kazeem Ugbodaga
Former Governor of Ogun State, Olusegun Osoba on Tuesday cried out over alleged a major breach and threat to his private security after two persons were arrested in connection with a drone deployed discreetly to monitor activities in his Abeokuta residence.
The former governor, who is the Chairman, All Progressives Congress (APC) Constitution Drafting Committee, in a statement, therefore, demanded thorough investigation into the deployment of the drone after the suspects were handed over to security agency for investigation.
The statement issued by Osoba's long-time political associate, Adekunle Adeyemi on his behalf, decried that the political climate of Ogun State had taken a dangerous dimension, which according to him, had triggered a major beach and threat to his personal security.
According to the statement, on Tuesday afternoon, two persons, a lady and a young man, were caught using drone to monitor activities going on in Osoba's expansive compound in Abeokuta.
It said the alert security staff of Osoba were able to bring down the drone and got operators of the drone arrested, adding that neither of the arrested youngsters were able to give coherent explanation to Osoba's security staff.
"Osoba arrived Abeokuta from the United Kingdom early in the morning on Tuesday to prepare for a private meeting where the peaceful conduct of the presidential party primary scheduled to hold on Friday will be discussed," the statement said.
The statement said the incident was another in series of breach of Osoba's private security, while it described the situation as disturbing and worrisome citing the recurrence of security breach of and threat to his private security.
It added that few years ago, unknown people invaded part of the compound and took reasonable to dig out buried armoured cable, as this was done in most professional manner.
According to the statement, sometimes ago, two bungalows within the premises "were vandalised by unknown hoodlums. Another breach was when insultive and abusive graffiti were written around the fence of Chief Osoba's house, not too long ago."