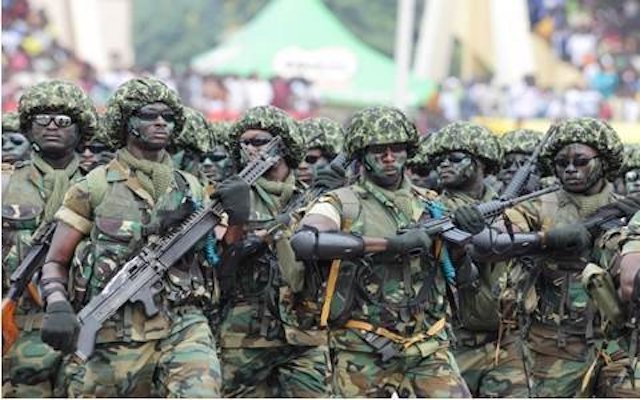 The 6 Division of the Nigeria Army, Port Harcourt, has seized 16 trucks loaded with suspected adulterated diesel and kerosene.
Lt. Col. Ibrahim Buhari, Commanding Officer of the division's 29 Battalion, made the disclosure while parading the 16 trucks along with one suspect before newsmen in Port Harcourt on Thursday.
Buhari said the suspect and some others on the run were caught while trans-loading the illegally refined petroleum products into the 33,000 capacity trucks.
He said: "On Oct. 2, troops acting on intelligent gathering and report discovered the illegal bunker site used in adulteration of petroleum products.
"When the troops arrived the scene they found 16 trucks that were being loaded with illegally refined petroleum products suspected to be diesel and kerosene."
The commanding officer said the suspects set up their illicit trade at an abandoned compound formerly used by Union Dicot Salt Company in Port Harcourt.
"By the time we arrived the site the suspects had escaped, taking along with them a barge. They used pumping machine to load the products from the barge into the trucks.
"Intelligence revealed that the site operators come in the dead of the night to carry out their illicit business.
"We found out that after loading the adulterated products, the operators would proceed to a licensed loading point and thereafter move alongside with other trucks that loaded original products," he said.
Buhari said that the troops were on the trail of the operators of the illegal refining facility with a view to bringing them to justice.
The Spokesman of the division, Col. Aminu Ilisayu, said that the trucks and suspect would be handed over to the Economic and Financial Crimes Commission (EFCC) for further investigation.
He said the division was fully committed to the fight against illegal bunkering of petroleum products and would not rest until the practice was stopped.
"We have intensified the war against oil bunkering in the four states under our watch, and as such, those involved in the act would be arrested and prosecuted in no time," he warned.