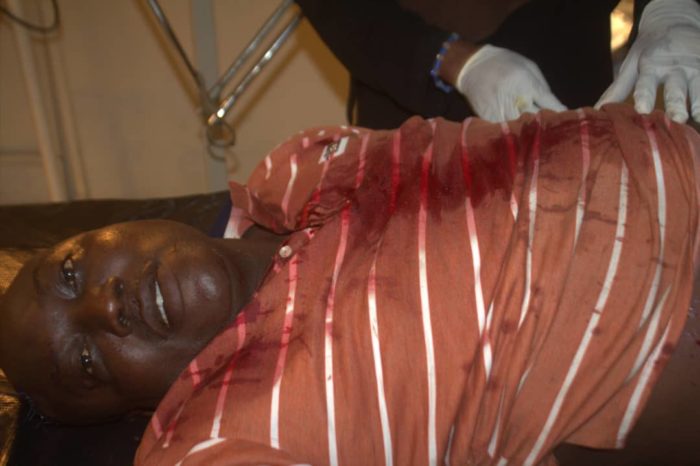 By Kazeem Ugbodaga
A former Chairmanship aspirant in Kosofe Local Government area, Hon Ibrahim Mustapha, narrowly escaped death on Thursday when suspected political thugs attacked him at Anthony Village with machete. He is currently on admission at a private hospital, Life Fountain Hospital, Anthony, Lagos.
Mustapha was allegedly attacked by political thugs suspected to be working for the Special Adviser to the Governor of Lagos on Food Security, Ganiu Okanlawon and a member of Lagos State House of Assembly, Hon. Bayo Oshinowo, and matcheted him severally on the head.
Eyewitnesses informed said that the assailants, numbering between two and five, swooped on him and allegedly inflicted deep machete cuts on his head and other parts of his body. Some of his supporters who were with him also sustained various degrees of injuries.
It was gathered that the attack on Mustapha occurred at Adebayo Mokuolu Street, Anthony Village, in Kosofe Local Govt. Area of the state.
It was learnt that Mustapha, who was also a former Councillor in Kosofe LG, Lagos, was initially rushed to two nearby hospital and was rejected before he was taken in at the Life Fountain hospital. The victim was reportedly stitched at several places on the head.
The political thugs led by one Akeem Oshijinrin and Dayo Lawal, were allegedly given coverage by the Area Commander of the Area H Command, Ogudu and his men, who were present at the scene of incident.
Our correspondent learnt that the suspected thugs chased Mustapha to a place where he could no longer escape and macheted him severally. It took the intervention of passers-by who carried his lifeless body to the hospital.
It was also alleged that the Area Commander who was on ground to provide security to APC for the primary election provided shield for the thugs who eventually escaped.
It was gathered that while Mustapha was being attended to, some of the thugs came back to finish their undone business. It was at this point that one of them named 'Nokia' was caught while trying to escape on okada. He eventually escaped but he left his bag which contained machetes and local guns.
It will be recalled that violence and pandemonium broke out in parts of Kosofe Federal Constituency of Lagos State during the primary election into the House of Representative on Thursday morning.
Hoodlums stormed polling units across the constituency to unleash mayhem on would be voters, chasing them out of the voting area with machetes and guns.
A former House of Representatives member, Dayo Bush Alebiosu and the incumbent, Rotimi Agunsoye are the two contenders in the primary election for House of Reps.
The mayhem occurred majorly at Ward F in Ikosi-Isheri where political thugs said to be loyal to Hon. Bayo Oshinowo, popularly known as 'Pepper' scared voters by displaying dangerous weapons before chasing them away from the polling points.
Oshinowo is contesting the Lagos East Senatorial ticket with Senator Gbenga Ashafa, but reports have it that he has been disqualified from participating in the elections by the screening committee from Abuja, leaving only the incumbent in the race.
It was, however, disturbing to most of the voters present who saw his supporters with Hausa thugs from Mile 12 disrupting the exercise with dangerous weapons, people had to scamper to safety to avoid been caught in the violence.
It was also reported that the election which was initially scheduled for a particular place had to be taken to another place on Ekiti Street, said to be the stronghold of one of the contestants for the House of Reps, Agunsoye.
One of the voters named Monsuru Adebiyi who spoke to our reporter lamented how fully-loaded buses, about 17 of them, brought thugs who were majorly from the northern extraction to the particular ward, disallowing anyone who displayed their sign to go in and vote.
Adebiyi said, "We were told that Pepper has been disqualified, but we were alarmed to see how thugs here are shouting his name telling anyone who cared to listen that it's either him (Pepper) or nobody. In fact the thugs at a point over-powered the security agents on ground."
Our correspondent gathered that same scenario played out in a particular voting area in Anthony and Agboyi Ketu where one of the voters was macheted before security agents were brought in to rescue him from being hacked to death.
There has also been general report of no accreditation and voting in most of the polling centres across the constituency.
Load more