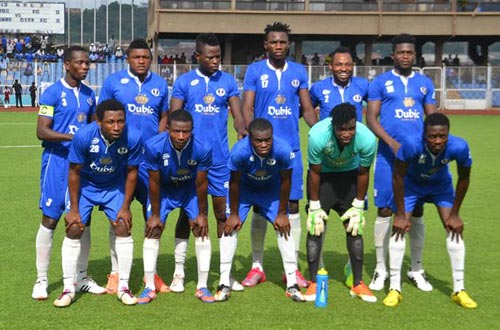 Enyimba FC of Aba Coach, Usman Abdullah, Wednesday night blamed his team's 0-1 loss to visiting Raja Casablanca of Morocco in a continental encounter, on fatigue.
Abdullah said during a post-match press briefing held at the Enyimba International FC Stadium complex that his boys were engaged close to the encounter and never had any rest.
He said his team played five matches in ten days,which affected their performance and quality of play,having suffered exhaustion because of being on the road constantly.
"NFF should have protected us because we are the only team in Nigeria playing the African cup matches. Now they have seen what had happened.
"Going to Gombe is a two-day trip. We played a match on Sunday and left in the morning. We only arrived Gombe the next day, Tuesday, and on Wednesday, we played a game against one of the toughest clubs in Nigeria.
"On Saturday morning, we had to leave and on our arrival in Aba on Sunday, we had only one day left to train and to play.
"I think the NFF should have protected us and granted some privilege but they did not; we have learnt our lessons", Abdullah said.
He said that his team had not lost hope of advancing in the game because the match in Aba was just the first leg of their encounter with Raja Casablanca.
He said his team would need to do a lot of work to win the second leg of the encounter, promising to prepare adequately.
"It is far from being over because this is the first part of the match and now we are familiar with our opponent.
"We played them without knowing them but having known them now, we would have to go to the drawing board and do some work", he said.
Raja Casablanca Coach, Juan Carlos Garrido, said the match was tough but his team won, having studied Enyimba and known their pattern of play.
"We worked hard, knowing our opponent and our players played the match respecting the quality of Enyimba and their game.
"For us, the motivation was very high because they (players) knew the match demanded everything", he said.
He said that although they won the first part of the match in Aba, they would still go home and prepare harder for the second leg.
Raja Casablanca's Zakaria Hadraf scored the only goal of the match at the 48th minute of play.
Enyimba missed a lot of opportunities to poor marksmanship, one of which was a spot kick wasted by Sopuruchi Dimgba.