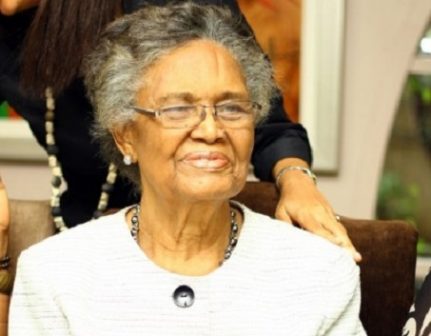 Gbenro Adesina/Ibadan
As the University of Ibadan, UI, clocks 70 this year, the Vice Chancellor, Professor Abel Idowu Olayinka, has declared that the institution is rolling out the drums to celebrate.
At a World Press Conference held on Friday October 5 2018, Olayinka noted that the 70th anniversary would be an opportunity to showcase the achievements of the university as a truly national institution, a national resource and a national treasure.
According to him, "the first set of students, 104 in all, resumed studies at the University College Ibadan on 18 January 1948. Hence, this university is 70 years old this year. Till date, the university has produced two hundred and thirty two thousand, two hundred and twenty five graduates. Many of the alumni/Alumnae of the institution now hold high profile position in various segments of the economy, both locally and internationally. As at the end of last session, we had a total of 35, 084 students, comprising 14, 354 undergraduates, 9,287 Distance Learning Students, DLC, and 11,443 Postgraduate students.
Olayinka, however, lamented poor funding of the premier institution stressing that for it to achieve its vision of being a world class institution, it needs at least N30b naira yearly to upgrade teaching and research facilities, stating, "for us to be a world class university, we need to invest heavily in physical and infrastructural facilities, to address the acute shortage of office spaces for staff, classrooms and laboratories".
He said that presently the institution's subvention is about N13b, which is a far cry from what is needed to maintain the institution adding that out of this N13b, salaries are paid, electricity bills which run to millions of naira is paid, hostels are maintained, water and healthcare are provided among other things.
According to him, "Adequate funding of a university is central to its academic excellence. The funding from the federal government has been dropping consistently over time. We have been praying that government will increase it. There are three ways at which universities generate funds. First, proprietary fund otherwise called first stream, which comes from the owner of the university. It is this fund that has been dwindling over time. The other is users' charges otherwise called students' fees. The government wants tuition to be free, which is good on paper, but there is no free lunch anywhere. Somebody has to pay for the free lunch that another person is enjoying free, maybe through tax. Government has not been able to give us adequate fund and still asking us not to charge tuition fee. Maybe, a way out is the establishment of education bank that can give loan to students who need it to finance his or her education. Something must be done to make sufficient fund available to universities. However, what we are saying is that public universities should not be destroyed the way public primary and secondary schools are destroyed. We don't want public universities to collapse".
He assured that if the premier university is properly funded, within a shortest possible time, it would be among the top five in Africa and top 100 in the world.
During the conference, Olayinka stated that the institution's council has approved the conversion of its Post Graduate School to Post Graduate College. "With this development, the college will now be headed by a provost who will be assisted by two deputy provosts and two registrars", he added.
Olayinka also noted that during the Founder's Day on Saturday November 17 2018, six eminent Nigerians would be conferred with different honourary awards. Among them were: Chief Bode Akindele, Professors Grace Alele-Williams, first female vice chancellor in Nigeria, Bolanle Awe, Akin Mabogunje, Funmi Olopade and Omoniyi Adewoye.
Activities lined up to commemorate the 70th anniversary of the institution include: lectures, Inter-School Public Speaking: Effect of Social Media on Education, Job Fair for Students, Final of Jaw-War Public Speaking Competition by Students, the 3rd Annual Research, Development and Innovation Fair, Church and Jumat Services, Night of Music, UI Research Foundation, Life Time Achievement Awards, Command Performance at Wole Soyinka Theatre, conferment of award of degrees on graduands and Foundation day ceremony.
Load more