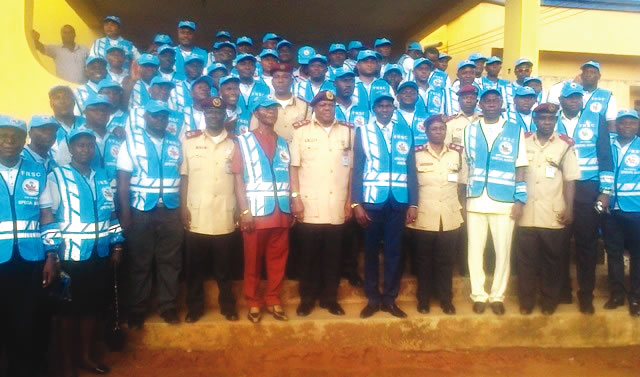 The Federal Road Safety Corps (FRSC) on Tuesday inducted 85 successful applicants as Special Marshals in Ebonyi.
Dr Sini Kwabe, FRSC National Coordinator of Special Marshals, urged the new inductees to discharge their functions with utmost commitment and professionalism.
Kwabe noted that the special marshals would collaborate with the regular marshals to reduce road crashes on the state's roads.
"You should not use your positions to intimidate road users or flout road-use laws as anyone found wanting in this regard would be `de-marshaled' immediately.
"You have not been inducted to use your identification cards to cause trouble on the roads but are encouraged to work in harmony with other marshals.
"You should not compete with regular marshals but complement their efforts in unison, to attain the onerous goal of securing lives on the roads," he said.
He commended the inductees for volunteering to render selfless services to road users, who were usually not appropriately-oriented on road-use guidelines.
"The era of boasting that one is a regular or special marshal is over as everyone should collaborate to reduce accidents on our roads," he said.
The FRSC Sector Commander in Ebonyi, Mrs Stella Uchegbu, congratulated the new inductees and assured them of FRSC's support in effectively discharging their functions.
"It is the passion to contribute to saving lives on the roads that propels Special Marshals because it is a voluntary service.
"You should, therefore, realise that as far as you are on the road, you are on duty and should adequately guide and orientate road users," she said.
The State Coordinator of Special Marshals, Dr Anya Kama, also congratulated the new inductees and urged them to discharge their duties with humility and fear of God.
"I urge you to sustain the tempo of activities of Special Marshals in the state, as you would be given all necessary assistance to succeed.
"Over 150 persons applied to be special marshals but only 85 were selected after the screening.
"I, therefore, urge the new inductees to be dedicated to the volunteer service as God will reward them accordingly," he said.
Mr Darlington Nweke, one of the inductees told the News Agency of Nigeria (NAN) that he would diligently discharge his duties for the good of road users.