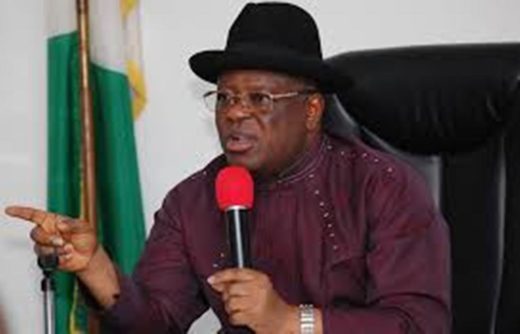 Gov. David Umahi of Ebonyi on Monday, launched an educational foundation for the children of slain Vice Chairman of the Nigerian Union of Journalists (NUJ) Ebonyi council, Mr Samuel Nweke.
Nweke was killed by suspected armed robbers, who had attacked the state's NUJ delegation at Nkalagu, Ebonyi, as they were returning from the union's national delegates conference held in Abeokuta, Ogun.
Umahi, who made the pronouncement during a condolence visit to the deceased's family in Abakaliki, announced the release of N3million for the take-off of the educational foundation.
According to the governor, this is to ensure that the education of his three children is not hampered or stopped and though death is a necessary end, untimely one such as this, is particularly painful.
"We would take care of his family as his wife would be given N1 million to establish a business venture and also be appointed a technical assistant to the governor after his burial.
"The sum of N500, 000 each would be given to his father and mother while the commissioner for works would be responsible for the payment of his house rent.
"The commissioner would also save funds to purchase a Sienna car for his wife to use in conveying his children to school as Nweke would not had loved to leave his children," he said.
The governor noted that Nweke's death was painful because the journalists, who were attacked were urged to stay in Awka when they arrived at the town from Abeokuta at night.
He explained that they went with two buses and while one of the buses heeded the advice, the one conveying Nweke and others still continued the journey.
"Death defies all premonitions when it wants to strike and this should make all of us to live exemplary lives in preparation of any eventuality," he said.
He commended the state commissioner for information and culture for directing the temporary suspension of operations at the state broadcasting corporation where Nweke worked, for 24 hours.
"Though he did not seek authority from me on such directive, I am happy because it showed that Sam lived a good life.
"I enjoin journalists and others here to live good lives because if he was a dubious person, the corporation would not have accorded him such honour.
"It is also not everybody that the governor and his entourage would visit the family in times of death, if he had been a dubious person, I would not have been here," he said.
He also warned the citizens on the dangers of embarking on night journeys, noting that even as a governor, he was always apprehensive of embarking on night journeys.
According to him, hoodlums might in some cases, be more sophisticatedly equipped than convoys and even if I am protected, any loss of life at such periods would had been unnecessary
Umahi also visited the Federal Teaching Hospital Abakaliki (FETHA) and commiserated with the two journalists wounded by the hoodlums in the incident.
"The government would offset their hospital bills and donate N500, 000 each to their families for their medical upkeep.
Chief Mathew Nweke, father of the deceased, Samuel, thanked the governor for the visit, saying that his son's death was very tragic.
"Samuel was the breadwinner of the family as the vacuum created by his death would be impossible to fill.
"I urge the governor to look into the issue of my gratuity's payment as only 20 per cent of it had been paid since I retired in 2011.
"The road leading to our house is only about five poles from the Abakaliki-Afikpo federal highway but is very deplorable," he said.
Nweke, 39, was until his death, a principal reporter with the state broadcasting corporation and was born on Sept.24, 1979.