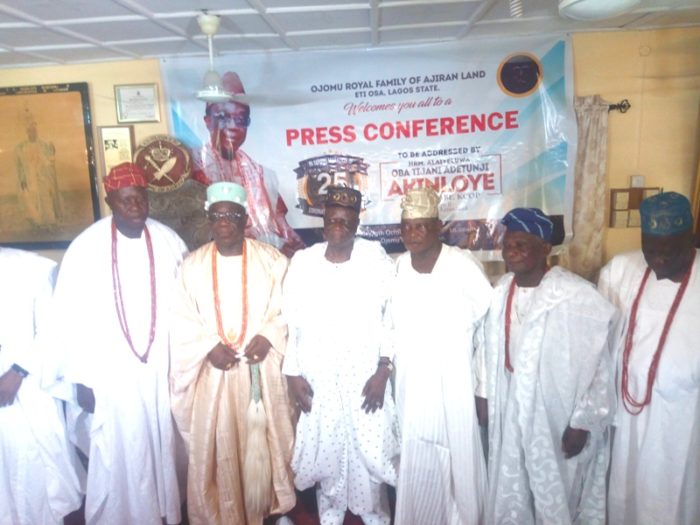 A Lagos monarch, Oba Tijani Akinloye has attributed the high rate of youth unemployment in the State and Nigeria to lack of employable skills.
Akinloye, who is the Sateru II, Ojomu of Ajiranland, spoke at a news conference on Tuesday in Lekki area of Lagos, Southwest Nigeria to herald his 25th anniversary on the throne.
Akinloye lamented that the challenges of high population had always been unemployment, saying that sometimes ago,  he initiated studies to seek solution to the unemployment situation, especially among youths.
"The studies indicated that one of the reasons for youths' unemployment was lack of employable skills, even for those who attended higher institutions," he said.
Akinloye explained that respite came when the Organisation for Research of World Peace, ORWP, a Non-Governmental Organisations, NGO, which he was then the Vice President, inaugurated a training for the youths in Communication and Information Technology, general agriculture, texile, among others, adding that so far,  3,000 students had been trained with many of them now gainfully employed and others becoming employers of labour.
The traditional ruler also decried the rate at which youths were being used by politicians to foment trouble, saying that it was because such youths were idle and had become the devil"s workshop.
"If the youths have something to do and are employed, they will not foment trouble. Gradually, we are taking them out of the streets. Joining bad wagon is not best," he said.
The Oba added that in Ajiranland, just like Nigeria,  60 percent of the population was youths, indicating a strong generation shift, stressing that the needs of these teeming youth population must be catered for.
Akinloye also said the present time called for more active roles for Obas to improve their communities.
"Our people have entrusted in us the responsibility to continuously seek ways of improving our communities. I believe if every Oba can approach their responsibility with dedicated devotion, our communities will reflect more value and progress," he said.
On the 25th coronation, Akinloye said a major highlight was going to be the awarding of plaques and prizes to the best students from SS2 to SS3 in some selected public and private schools in Eti-Osa, among others.
"We are in the 21st century which calls for greater awareness and vibrancy. The world is now a global village. I appeal to the youths to tread cautiously in their quest for easy money," he said.