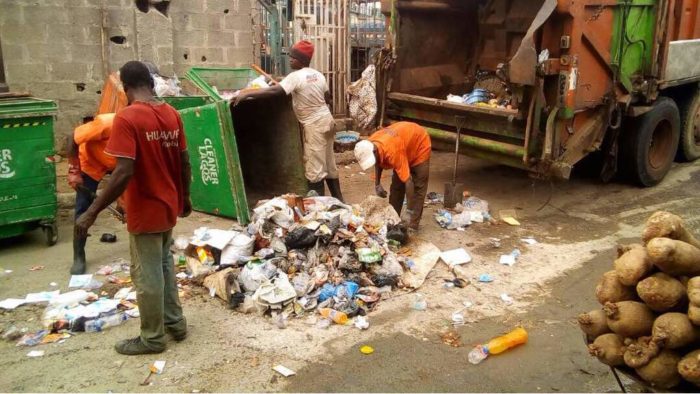 The Lagos State Ministry of Environment has urged residents of the state to take responsibility for their environment by ensuring proper waste management for a healthy environment.
Mrs Tolulope Adeyo, an Assistant Director, Environmental Services Department of the ministry made the appeal in an interview with the News Agency of Nigeria (NAN) on Tuesday in Lagos.
Adeyo appealed to residents to ensure proper bagging of their waste to curtail the spread of diseases across the state.
`He said:The Lagos State Ministry of Environment has a mandate to ensure a clean and serene environment.
"In a bid to do this, we encourage communities to take responsibility for their environment to bag their waste properly and ensure the waste do not block the drains.
"We advocate that when waste is not disposed properly, residents are the immediate victims of a hazardous environment.
"We want people to understand that the issue of public health is key; when you have a clean environment, you spend less in the hospital."
The ministry official said that it had been enforcing its directive by using the carrot and stick approach in sanctioning residents over indiscriminate dumping of refuse.
"Foremost as a ministry, we spend a lot on advocacy before we even think of sanctions. We make the people understand the essence of a clean environment.We do not just fine defaulters, advocacy and sensitisation come first.
"We then have our officers gone round and serve `abasement of nuisance notice' to areas with so much filth to clean up their environment.We give about two to three notices before we charge them to court for creating environmental nuisance.
"Nigerians do not like anything to do with court, so they usually comply before it gets to that stage.That is the measure we use, it is more of a carrot and stick approach for us."
Adeyo called on private organisations to buy into recycling, saying it was a viable means of disposing waste.
She said that the ministry would create an enabling environment for recycling firms, adding that it was collaborating with various Non-Governmental Organisations and their recycling efforts.
"Recycling puts value on some waste items when embarked on properly.
"Government cannot do it alone, we encourage more private organisations to buy into it and we will create an enabling environment for them."

Load more