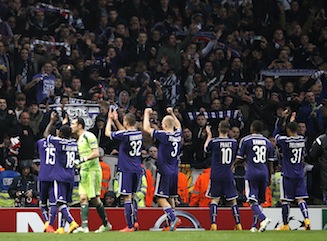 Belgian police carried out series of raids at football clubs and homes across the country on Wednesday and detained many people for questioning about financial fraud and possible match-fixing, Belgian prosecutors said.
A total of 44 searches were carried out at top Belgian clubs and residences, federal prosecutors said in a statement.
At the same time, searches of 13 houses also took place in France, Luxembourg, Cyprus, Montenegro, Serbia and Macedonia.
Prosecutors did not name any clubs or people, but Belgian broadcasters VRT and RTBF said searches had taken place at leading teams, including Anderlecht, Club Bruges and Standard Liege.
Prosecutors said the searches were related to an investigation launched at the end of 2017 into suspected financial transactions in the top Belgian league, with possible charges of criminal organisation, money laundering and corruption.
Some agents were suspected of hiding commissions on transfers, players' pay and other payments from the Belgian authorities, the prosecutors said.
"During the investigation, there were indications of possible influencing of matches in the 2017-2018 season," the prosecutors said.
The searches come after Belgium reached the World Cup semi-finals.
Most of the national team squad now play abroad but previously played in the Belgian premier league, which is a major feeder of players for top European club sides.
Some of the house searches were carried out at the homes of club directors, football agents, referees, a former lawyer, a trainer, journalists and at an accountancy office.
"A large number of people have been deprived of their liberty and taken in for a thorough interrogation," the prosecutors said.
He added that a judge would later decide who should be held in custody or formally arrested.
The searches abroad were chiefly at offices and residences of people used to set up the suspect transactions, the prosecutors said.