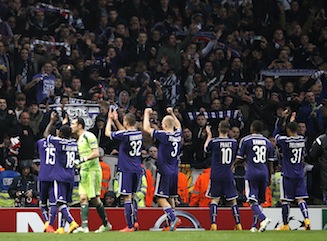 Belgian investigators on Thursday questioned Mogi Bayat, the country's most influential football agent, a day after he and senior figures in Belgian football were detained.
They were detained on suspicion of financial fraud and possible match-fixing.
At the same time, a Belgian judge was deciding whether or not to charge some 25 people.
These included the coach of champions Club Bruges, the former general manager of Anderlecht, referees and other officials.
However, some could be kept in custody.
Federal prosecutors were due to hold a news conference on the case later on Thursday.
Belgian police raided 44 Belgian clubs and residences across the country on Wednesday, while a further 13 searches took place in France, Luxembourg, Cyprus, Montenegro, Serbia and Macedonia.
The lawyer of former Anderlecht general manager Herman Van Holsbeeck told broadcaster RTL that his client had been released on Wednesday after giving information about transfers and contracts.
Ivan Leko, the Croatian coach of Bruges, was still in custody, his lawyer said, after answering questions on Wednesday.
Bruges are playing in 2018/2019 UEFA Champions League Group A with Atletico Madrid, AS Monaco and Borussia Dortmund.
Bayat, a high-profile figure who has brokered a series of larger player transfers in the country, was facing questions on Thursday morning, his lawyer said.
He however complained about the force used to detain him at dawn on Wednesday.
Three months after the Belgian national side reached the 2018 World Cup semi-finals, the news indicating uncomfortably close ties between agents, football officials and referees dominated Belgian media.
There was widespread speculation about which matches might have been fixed.
Many focussed on an extraordinary end to the regular season in Belgium's top division, when Mechelen were relegated on a goal difference of one.
That was after they won their final match 2-0, while Eupen scored four goals in the last 20 minutes of their game to stay up.