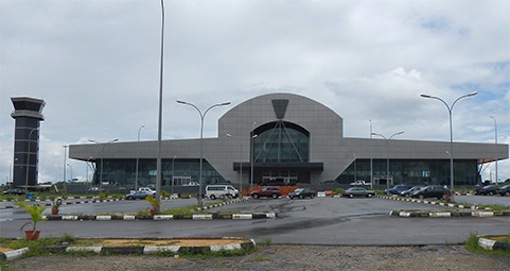 Mr Austine Ayemidejor, the Project Manager of Asaba Airport, has said that it has fully resumed operations after its downgrade by the Nigerian Civil Aviation Authority (NCAA in 2014.
Ayemidejor stated this in an interview with the News Agency of Nigeria (NAN) on Thursday in Asaba.
He said that efforts were on to ensure that the airport was upgraded from its current category, six, to category eight or nine, to enable it to engage in international flights.
"The airport is on category six now, we hope to go to category eight or nine in the next couple of weeks.
"Most international airports in the country operate on category nine and it is important to know that the Asaba airport runway can receive any type of aircraft.
"So, the airport is set to go on to the next level to receive Boeing 737 and eventually categories of Boeing 777.
"We can go international as soon as we get approval from the regulatory authority," he said.
Ayemidejor said that since the rehabilitation work on the runway and other ancillary facilities as directed by the regulatory, activities at the airport had greatly increased.
The project manager lamented the huge loss of revenue during the period the airport was not in operation due to the downgrading.
He expressed joy that the facility had fully resumed operation with three flights from Lagos and Abuja to Asaba on daily basis.
"We have lots of activities going on here. We have three flights – the Air Peace, Ero Contractor and Overland – and the volume of traffic is high.
"I am quite happy that the runway has been fully rehabilitated. The State Government has done well in this regard and the perimeter fencing project is ongoing.
Ayemidejor noted that Asaba airport was a gateway to eastern Nigeria and with proximity to Onitsha and Nnewi markets, it would be easily accessible to many users.
The project manager said the airport authority was discussing with the three airlines now plying the route to see the possibilities of connecting from Asaba to Port Harcourt, Calabar, Uyo and others.
He expressed appreciation to the state Governor, Ifeanyi Okowa, for the intervention that repositioned the airport for better services.
Ayomidejor solicited the corporation of all stakeholders in creating awareness on the readiness of the airport to operate flights in the morning, afternoon and evening.
The Chief Pilot, Air Peace, Capt. Egonu Victor, told NAN that airline commenced flight services in Asaba about four years ago, but had to suspend its activities due to poor facilities.
He said that with the current upgrade and transformations at the airport by state government, it had resumed operations in earnest.