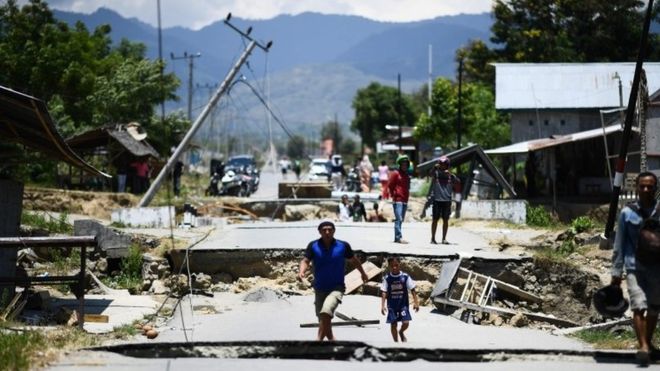 The Asian Development Bank (ADB) has pledged up to one billion dollars in loans to Indonesia to rebuild areas on Sulawesi island devastated by September's earthquakes.
ADB President Takehiko Nakao, who met Indonesian President Joko Widodo, on the sidelines of the IMF-World Bank annual meetings in Bali, said that the bank would provide an emergency budget support loan of up to 500 million dollars.
Nakao also said that ADB would provide additional financing of about 500 million dollars to support reconstruction of critical infrastructure such as water supply and sanitation, schools, roads and bridges.
The bank said that billion-dollar loan will be on top of ADB's regular sovereign lending programme to Indonesia, which averages 2 billion dollars annually.
The official death toll from the two earthquakes and subsequent tsunami that hit Central Sulawesi province stands at nearly 2,100.
Hundreds, if not thousands, more are still missing after their homes were swallowed by mud in a phenomenon known as soil liquefaction.
The government declared the end of the national search for victims on Friday.
The Sulawesi quakes came after more than 560 people were killed and more than 400,000 were displaced in August in a series of powerful quakes that devastated the Indonesian island of Lombok.
World Bank President, Jim Yong-Kim said the recent disasters that hit Indonesia were a reminder of the need to build resilience to natural catastrophes and tackle climate shocks that exacerbate them.
"Indonesians are a resilient and compassionate people, and they will rise from this challenge stronger than ever," he said at the opening of the IMF-World Bank meeting in Bali.
UN Secretary-General, Antonio Guterres, on Friday visited Palu, the devastated capital of Central Sulawesi to inspect earthquake damage.
Guterres, accompanied by Vice President, Jusuf Kalla, went to a camp for people displaced by the disaster and talked to survivors.
"To the many people I saw and spoke to: your strength and resilience are remarkable. The UN is with you to support government-led rescue and relief efforts," Guterres said on Twitter.
"I was deeply saddened to see so many people suffering in Palu amidst so much destruction caused by the earthquake and tsunami," he said.
Indonesia sits on the Pacific Ring of Fire, an area known for seismic upheavals and volcanic eruptions.