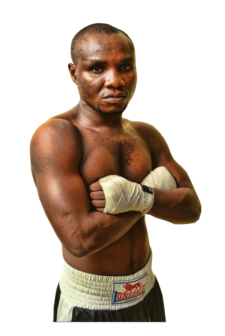 Ghana's Benjamin Lamptey and Emmanuel Mensah, who are billed to fight at GOtv Boxing Night 16, have vowed to disgrace their Nigerian opponents in the latest revival of the traditionally fierce Nigeria/Ghana sporting rivalry.
Both boxers spoke on Friday after their arrival in Lagos for GOtv Boxing Night 16, which holds at the Indoor Sports of the Teslim Balogun Stadium, Lagos.
Lamptey , who is billed to fight Rilwan "Real One" Oladosu for the West African Boxing Union (WABU) lightweight title, bragged that everyone would enjoy the fight except his opponent, who will be beaten like a child.
"Rilwan is, way, way below my class. I will prove that on Sunday by defeating him with ease. It would be like I'm fighting a child. In boxing terms, he is a child. I am here for the title. I will disgrace him before his fans. Ghana has better boxers than Nigeria and that will be demonstrated," he said.
Mensah, Lamptey's compatriot billed to fight Oto "Joe Boy" Joseph, the African Boxing Union (ABU) lightweight champion in a lightweight challenge bout, also spoke in similar vein. Despite being a replacement for Anama Dotse, who pulled out through injury, Mensah said he is sufficiently prepared to defeat his opponent as a step to challenging for the continental title.
"Joe Boy is in trouble. I always train hard, so it was not a problem when I was asked to fill in for Dotse. I can say with confidence that I'm ready, willing and able to see off Joe Boy. In fact, I'm determined to do that, as that will improve my chances of going for the ABU title. It will be Ghana all the way on Sunday. Mark my words," he boasted.
Nine fights are lined up for the event, which is the continent's top boxing show. One of these will be the national light heavyweight title duel between Kabiru "KB Godson" Towolawi and Adewale "Masevex" Masebinu. In the featherweight class, Waidi "Skoro" Usman will face Chibuzor "T Boy" in a challenge duel.
The bout line-up is also generously sprinkled with upcoming stars, notably from the last two editions of GOtv Boxing NextGen Search. According to the bout card, Adeyemi "Sense" Elijah will face Sheriff "Oshe" Ogunbanjo, while Taiwo "Esepo" Agbaje will face Tope "TP Rock" Musa. The other pairings will see Azeez "Who Say So" vs Waheed "Showmax" Shogbanmu; Isaac "I Star" Chukwudi vs Adeyemi "Spirit" Adekanla; and Aminu "Lucky Boy" Akintayo vs Mutiu "Machine" Lawal.
The best boxer at the event will go home with the Mojisola Ogunsanya Memorial Trophy and a cash prize of N1.5million. GOtv Boxing Night 16 will be beamed live in 47 African countries by SuperSport.